Current Location
Australia
Top 6 Girls' Swimsuits
Last updated: May 26, 2023
Swimming is a popular sport among both children and adults around the world. It's a great way to beat the heat while also burning a lot of energy, whether you're swimming in the ocean or a small pool behind your house. This form of fun physical activity is essential for children's growth today and in the future. Swimming is typically easy to get a youngster interested in, but parents have concerns that go beyond their child's level of interest. Of course, there's the issue of their swimming ability. But there's also their swimsuit, which is a little more simple. Swimwear is either an attractive or highly functional choice for adults. A highly developed bodysuit designed for rapid performance in the water isn't necessary for children. They require swimwear that is comfortable, safe, and functional in a range of scenarios. Many youngsters will be able to swim at school, for example, and selecting swimwear for such an event will be significantly different from purchasing swimwear for a vacation. So, what's the best way to go about doing this task? What features are available, and what types of swimwear are best for various situations? Let's take a look at that right now and lay out the fundamentals of purchasing a good swimming suit and gears for your children.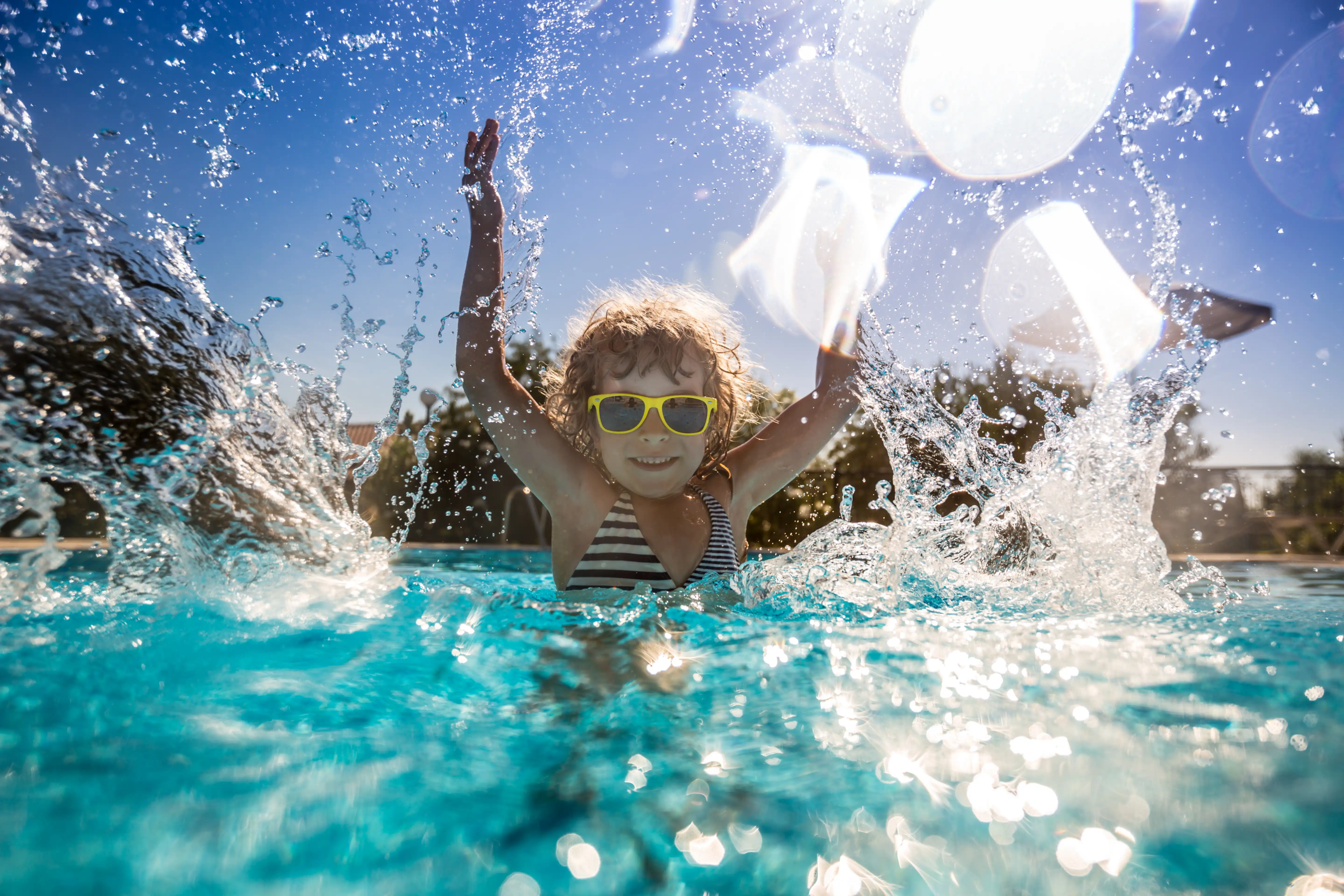 Pick the best girls' swimwear in Australia
This selection of little girl' swimsuits will be judged on their style, fit, and quality, as well as if they offer any sun protection features. We wanted to see colourful, comfy clothing that would make long days spent in paddling pools, at the lido, or at the beach even more enjoyable. We also considered how simple it would be to put on for girls who are old enough to dress but aren't used to dealing with complicated straps or zips.
We scrutinised seams and fasteners not only for comfort but also because swimsuits must withstand more wear and tear than regular clothes. Chlorine, sun exposure, and sea salt all create more wear and tear than typical clothing.
We've tried to include swimsuits to fit all budgets, lifestyles, and interests, with allusions to nostalgic bathing and sporty sets.
Some swimsuits are built with integrated sun protection elements, while others feature long sleeve swimwear. This does not, however, obviate the necessity for sun protection such as sunscreen and caps. Regardless of whatever swimsuit your child wears, they should always have high-factor sunscreen.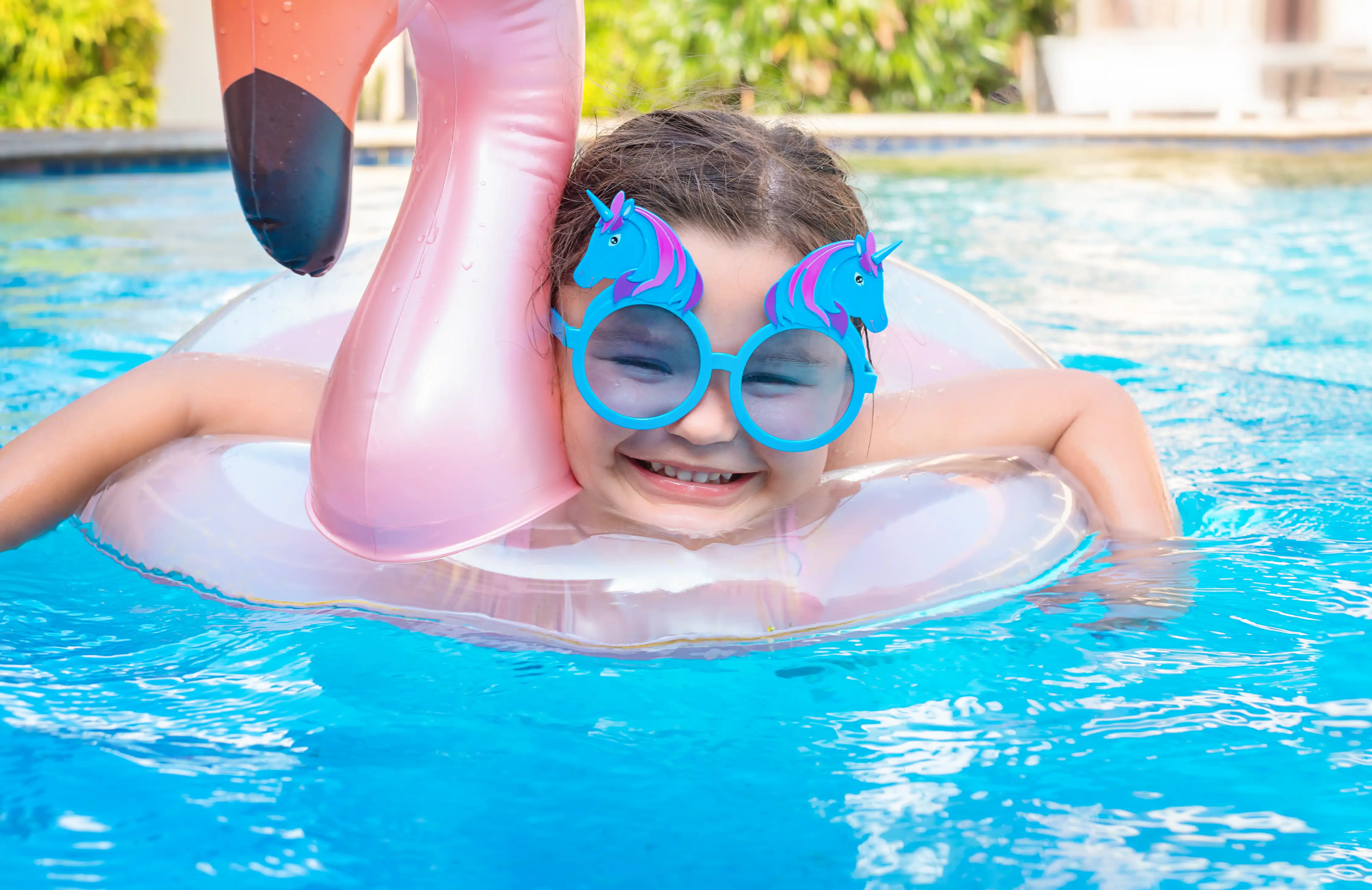 In this article, we have put together some models of swimsuits for girls.  The evaluation and selection are based on manufacturer information and customer reviews. We have placed particular importance on the clarity and comparability of the various models. Therefore you will find the most important properties of the products clearly listed. This allows you to compare the different swimsuits and find your favourites.
BAYIMEE – The Little Mermaid Girls swimsuit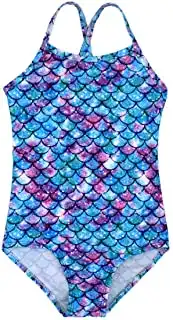 Brand: BAYMEE
Size: from 18 months to 10 years
Material: .82% Polyester, 18% Spandex
Colour: Color Scales 01 Mermaid
UV protection: not specified
Special features: ruffles on the leg section, spaghetti straps, officially licensed product
Price: $30.04
This swimsuit is officially licensed by Disney. With a Little Mermaid print, the girl's swimsuit has a beautiful and appealing design. The swimsuit is available in different sizes. The swimsuit has a ruffled part at the leg opening. Narrow spaghetti straps run along the shoulders. 
Get BAYIMEE – The Little Mermaid Swimwear now
Adidas Unisex Child YA Heart Bikini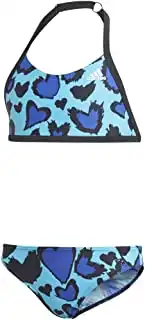 Brand: Adidas
Size: 4 to 5 years old
Material: 80% Nylon / 20% Elastane.
Colour: Cyasen/Azurea/Black and Rosglo/Rosint/Black
UV protection: not specified
Special features: chlorine-resistant INFINITEX material, Econyl nylon made from recycled plastic, elastic Material, good fit
Price: $72.56 - $73.85
The swimsuit from Adidas is made of chlorine-resistant material. This suit also uses Econyl Nylon made from recycled plastic. The swimsuit has a comfortable fit and is made of elastic material. The model is available in different sizes and designs.  This two-piece printed Adidas bikini for future mermaids is perfect for a pool party or a few days at the beach because it allows them to swim, dive, and surf in great comfort. It features a chlorine-resistant patterned fabric that is flattering.
Get Adidas Unisex Child YA Heart Bikini now
Arena Girls Sports Swimsuit Crazy Skulls Carnival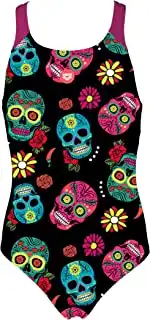 Brand: Arena
Size: 8 Years
Material: 100% Polyester 100% chlorine resistant, extreme durability, perfect for intensive training
Colour: Freak Rose-black Multi
UV protection: UV protection UPF 50+
Special features: breathable and comfortable, Ergonomic back for a secure fit, easy to put on
Price: $45
This swimsuit for girls is comfortable and breathable. It is available in size 8. The suit also ensures a certain level of UV protection. It can be used for many activities on and in the water and is ideal for regular swimmers. This one-piece swimsuit for girls creates a sporty look and is an eye-catching, durable, and quick-drying swimsuit for girls. It is breathable and comfortable.
Get Arena Girls Sports Swimsuit Crazy Skulls Carnival now!
Speedo Girl's Boom Logo Splice Muscleback
Brand: Speedo
Size: It is available in different sizes
Material: polyester (Endurance+)
Colour: Black/Electric Pink
UV protection: not specified
Special features: flat, stretchy seams, wider straps on the back
Price: $33.39- $37.16
You can purchase this swimsuit in Black/Electric Pink colour and several sizes. The swimsuit is made of special chlorine-resistant Speedo Endurance+ material which is designed to keep its shape. The swimsuit has a comfortable fit thanks to a medium leg cut and wider straps on the back. Stretchy and flat seams prevent skin sores. 
Get Speedo Girl's Boom Logo Splice Muscleback now
Kanu Surf - Girls swimsuit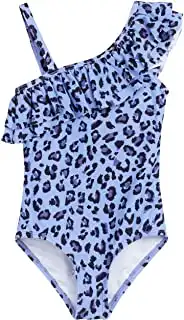 Brand: Kanu Surf
Size: XS, S, M, L, XL
Material:82% Nylon/18% Spandex
Colour: 17 different designs to choose from
UV protection: UV protection 50+
Special features: versatile, hand or machine wash
Price: $35.51 - $85.33
The highlight of this swimsuit is the UV protection. It protects your child from particularly strong sunlight. The swimsuit is available in 8 different designs. Your child can wear the swimsuit for many activities in the water, but the swimsuit also cuts a fine figure outside and is lined both front and back. 
Get Kanu Surf - Girls swimsuit now
Moon Tree - Girls swimsuit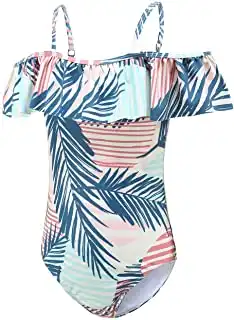 Brands: Moon Tree
Size: different sizes are available
Material: 82% nylon and 18% spandex,Lining: 100% Polyester
Colour: a total of 18 different colours and designs are available
UV protection: good UV protection properties
Special features: fully lined in the front area, elastic rubber cuffs on the legs and straps, supple, quick-drying
Price: $25.68 - $43.99
This swimsuit features quick-drying properties and a smooth fit. The elastic rubber cuffs on the leg and on the straps are particularly comfortable. The suit has good UV protection properties. There are 12 different colours to choose from. The swimsuit is available in different sizes. Rating: This suit scores with a good fit, reliable UV protection, and quick-drying.
Get Moon Tree - Girls swimsuit now
Things to Consider when buying girls' swimwear
1. The first priority is comfort and fit.
An uncomfortable swimsuit is one of the few things that can ruin a child's enthusiasm for swimming. Young children, in particular, are notorious for airing their disapproval with clothing they don't like. With that in mind, when buying children's swimwear, the goal should always be comfortable. That does not, however, imply that you must sacrifice a decent fit. It's a delicate art of balance. What should you be on the lookout for in order to prevent being scammed? If you're a girl, pay attention to how tight the shoulder straps are. These straps are an essential feature of almost all forms of girls' swimwear, and they often come with buckles to allow for changes. However, some do not. Straps that cut into your flesh because they're too tight aren't fun to wear, but you also don't want them to slip off all the time. Tops with halter-style straps that are tied behind the neck can be more comfortable. Swim trunks are the most common choice for boys. Choose waistbands with a good drawstring to reduce bagginess. The option to tighten the drawstring will make swimming simpler (because to the increased drag caused by baggy trunks) while also keeping your son comfortable. Due to the little level of skin coverage, your toddler is unlikely to prefer swim jammers (which resemble cycling shorts), but they are an excellent choice for fitness-conscious teenagers. Overall, children's swimwear is a matter of personal taste. The majority of scenarios do not necessitate the same kind of high-level design found in some adult swimsuits. But it doesn't mean it's only a matter of taste. There is also equipment available for children who want to improve their swimming skills.
2. Type of Fabric
Swimsuit upkeep is a major concern for children who like swimming. Repeated exposure to water, particularly chlorine-laden pool water, can cause serious damage to a variety of materials. As a result, coupled with comfort, durability is a critical consideration. Pay attention to the fabric composition on the labels when shopping for swimwear. Swimwear is made up of four different types of cloth. They can take the form of a blend of clothing made entirely of the material. What should you look for to ensure that your children get the best value and performance? Polyester is a popular synthetic material, and there is no shortage of polyester-based children's swimwear. Why is it so popular? It has a natural resilience to moisture, and the harmful effects of chlorine aren't a factor. As a result, it dries quickly as you get out of the water and the colours don't fade. On breezy beaches and other windy days, quick-drying fabrics are an ideal choice. The quicker the suit dries, the more relaxed your child will be. Suits made of nylon are lighter and more durable than those made of polyester. To make a stretchier, more wearable garment, nylon is frequently combined with Lycra (or spandex). Due to their minimal drag in the water, suits of this blend will be primarily focused on fitness or sports applications. These swimsuits, however, may wear out faster than polyester suits. After each usage, make sure you rinse the chlorine out of the suit and properly dry it. Otherwise, the nylon may fray and the swimsuit will need to be replaced. Both of these fabric kinds will provide your youngsters with a high level of comfort. But what about more precise requirements? What if your child is ready to join a school swim team or wants to improve their swimming speed? You can locate swimwear that meets their requirements.
3. No need to compromise style
The general design of the swimming costume is an important consideration in the selection process. Hundreds of different possibilities for the best kids' swimming suits may be found on top online clothing portals for kids. Choose a style that properly meets your budget and style requirements.
The nice part about purchasing online is that you may browse a big selection of children's swimsuits at rock-bottom prices. The internet's competitive atmosphere has prompted shopping sites to slash the ultimate cost of these appealing swimming suits by a significant amount. As a result, shopping online this summer can save you a tonne of cash!
4. Maintenance needed
Garment composed of fragile fabrics will not be able to withstand the saltiness of the sea or the chlorinated pool. These fabrics, on the other hand, will quickly degrade over time. The swimming uniform will readily get several holes in such corrosive surroundings. When choosing a swimming outfit, you should think about how long it will last. After all, you'll want to utilise them throughout the summer. If you just plan on wearing the costumes a few times during the summertime, renting them is a better option.
5. Availability of bathroom joints
In order to avoid embarrassing mishaps (e.g. in a pool), you should always remember to have swim diapers ready for the smallest mice. So nothing runs out and your fellow vacationers have absolutely no reason to get upset!
This summer, you may shop for children's swimwear in two ways. To begin, go to a store and try on a few different swimsuits to get an idea of the proper fit and size for your child. After that, you can look through the many web portals for great swimwear offers. On such internet portals, you can quickly find a huge selection of clothes for quick comparison.
Never sacrifice the quality or comfort of your swimwear for the sake of a more stylish style. Instead, let your kids pick their own swimwear based on their level of comfort. Get great prices on the best children's apparel this summer from the most popular stores.
6. Swimming during holidays or at school
School swimwear should prioritise physical comfort as well, but coverage is equally important, particularly for young females. It's less about modesty and more about personal comfort. It's not uncommon for children to like swimming at home but be terrified of swimming in a pool with their classmates. A swimsuit that gives youngsters a sense of security in what they're wearing can help them have a better time. Be aware that the school may have its own requirements, so keep that in mind. Always choose something simple and easy for your child to put on and take off; there's no need for something elaborate or fancy. When it comes to vacations, though, the sky is the limit! You could even let your child choose their own costume. However, sunburn can be a serious issue, so strike a nice mix between colourful comfort and enough skin protection. Some current swimsuits are made with materials that make them partially UV resistant, making them a good choice for a beach vacation. However, when you buy, keep in mind our overview of fabric types. A faster drying fabric is preferable if you plan to move around in your swimwear for most of the day.
7. Keep in mind kids grow fast
While all of this advice and tips are beneficial, keep in mind that your youngster will most likely require a new swimsuit from one summer to the next. Children grow at a rapid rate, especially as they approach adolescence. Preferences shift as well. When it comes to swimwear, keep in mind that comfort is the most crucial factor for any youngster. Movement should never be restricted; rather, it should be enabled. It also helps to block dangerous UV radiation. If your child is old enough, ask for their opinion; shopping for swimwear together may be a pleasant bonding activity. Though finding the perfect pair of swim trunks or tankini can take some time, the first dip into the pool always makes the quest worthwhile.
8. Evaluate the costumes based on the amount of coverage they provide.
Swimming suits for children usually give adequate covering. However, some of them are a little too open. As a result, while choosing a swimming costume for a girl youngster, make sure it does not expose too much skin. Choosing swimming costumes with more coverage has two advantages:
While wonderful fitting swimsuits for kids allow the child to have a great time at the beach or at a pool party, you should also verify the level of sun protection provided by the child's swimwear. Swim shorts, sleeveless or short sleeve swim shirts, and a variety of other swimsuits are designed to keep the body covered and protected from the sun. As a result, if you reside in a tropical area, wearing swimsuits with more coverage minimises your chances of acquiring tanned skin by a significant amount. In addition to wearing swimsuits that cover the body to shield it from the sun, some children wear swimming costumes made of sun-protective fabric. To keep your child healthy and safe, look for a swimming costume that provides adequate sun protection.
They shield the skin from the damaging effects of chlorine water. If you're going to a pool party, such swimming costumes will reduce the amount of water that comes into contact with your skin. As a result, you can let your child play in the pool without fear of her skin being damaged by the chlorine water.
9. Don't Forget to Try a Couple of Resort Wear Clothes
When you take a swimming outfit out of the water, certain of the textiles shrink. Make certain that you do not select such outfits. They can cause severe pain in as little as a few minutes.
If you're going to a resort, you can include a few resort outfits as well as the girls' swimming costume. In the summer, your child can wear this clothing over his or her swimming costumes. Because kids do not need to change their clothes regularly, this can save you time. Such resort wear dresses are stylish and give exceptional coverage when compared to traditional swimwear.
Several western sundresses are available for vacation wear on the best online shopping portal for kids. These sundresses can be worn over girls swimming costume in a single motion. As a result, following a quick dip in the pool, you won't have to waste time assisting your kids to get ready for lunch.
10. Use Corrosion-Resistant girls swimming costume
Choose outfits that can withstand rusting caused by salty and chlorine water. These types of swimwear will stay longer and won't bleed colours. You should choose a reputable sports gear company that can provide long-lasting swimming suits for a girl child.
Between the ages of four and twelve, children grow up quickly. As a result, you must select their clothing carefully. Other sorts of clothing can be purchased slightly larger so that they can be worn for a longer amount of time. However, such tests are not possible with the swimming suit for boys. Instead, buy garments that are stretchy enough to conform to their changing sizes.
11. Select Colors That Contrast
When shopping for a boys' swimming suit, you should ideally bring your son along. Then ask him to choose his top five colours/designs and urge him to try them on. When he grows older, these shopping trips will give him the courage to choose his own clothes.
Choose colours that are opposite each other. Swimming suits with a lighter tone look better on dark-skinned people. Black, navy blue, and other comparable colours, on the other hand, look wonderful on those with lighter skin tones.
12. Purchase two separate clothing items
You don't always have to buy an entire outfit, especially when shopping for a swimming suit for boys. Alternatively, you can purchase individual tops and bottoms. When it comes to swimming suits, the boys have plenty of options for mixing and matching different tops and bottoms.
Looking for a swimsuit for yourself too? Read this article: Explore All the Best Swimwear Brands UK! on Super Saver Mama. Also get discounts on Adidas, and Nike through Super Saver Mama exclusive discount coupons.
Recent Blogs
Leave a message
Your email address will not be published. Required fields are marked*