Current Location
Singapore
Look Your Best While Spending Less!
John Robert Samson
23-Nov-2020
We may not realize it, but we spend a large sum of our budget just on beauty products. Of course, it's okay to splurge sometimes on products that you are fascinated to try, but when it comes to the basics, there should be some ways to save money. Lucky for you, that's what we are going to talk about in this article! Here are some tips and ways that will guide you on how to look your best while saving money on beauty products.
Finish What You Already Have!
I know all of you can relate to this one. I can say that about myself that I used to be a person who will buy three different highlighters while already having four in my makeup vanity. All for lame reasons like I saw a good review of them on YouTube, I didn't want to hurt the salesperson by saying no (like seriously), or the packaging looked really pretty. Fortunately, or unfortunately, should I say, the monthly statement of my credit card knocked some sense into me.
Not only you spend more by doing so, but you also waste more products. And it really hurts when a product goes expired without being used much. Now is the time to change this habit and finish the products sitting in your vanity first, before running to buy new ones. Trust me, the fun is real when you don't have this feeling of guilt.
Avoid Spending on Unnecessary Products
There are almost hundreds of beauty products and new being launched every few months, but get in mind that you don't need to have each of them. I know advertisements and Instagram posts by beauty bloggers can really tempt us into buying these unnecessary products but ask yourself each time, "will this product actually make a difference in my makeup routine?" If the honest answer is no, then you absolutely don't need to buy it.
For example, I've never felt the need to own a primer. Even though I work 9-5, I don't feel that my makeup is melting by the end of the day or enough to make me look horrible. The same goes for an eyelash curler. A few years ago, I saw some tricks on the internet on curling lashes, and since then, I've been good without the fancy tool. Keep your routine simple and uncomplicated.
I get that everyone has a favorite beauty brand, but having favorites mean that you don't get to discover great inexpensive brands. Yes, they exist! Of course, your budget is going to turn upside down if you run to a pricey name-brand, every time you need to buy a new mascara. There are many good and affordable ones available in the market that do an equally great job as the expensive one.
So, don't always assume the higher the price, the better the product. Also, doesn't it gets boring using the same product? I actually get more excited about discovering products of different brands and eventually adding a few of them in my favorites.
Avail Free Samples!
Now, this is my ultimate favorite part. Who doesn't like to avail free samples? Don't be shy to ask for samples whenever you go makeup shopping. Most salespeople are happy to give them to you to please you into being a regular customer. You get two benefits out of availing free samples. One: they're free of cost, two: you can decide whether you would want to buy the product in the future or not.
We all have some "not worth it" products in our vanity, that just makes us want to cry because we spend a good amount of money on them. That's why it is important to sample products before you buy them. Even if the store does not provide sample packets, they will at least let you try the products. You can make your choice then.
Shop Multi-Use Products
Did you know that instead of buying different products, you can buy one that does it all for you? Yes, this is true. Start buying multi-use makeup products that perform multiple tasks on your skin and save you a lot of cash. For example, once I was out of eyeliner and needed something to line my eyes. I grabbed the eyebrow pencil and lined my eyes using it. Literally, I was pleasantly surprised that the pencil did a pretty good job.
Another example will be a contour palette. I can never understand why people buy bronzer separately when a contour palette can deliver multiple functions.
Like that, many makeup brands have now introduced no-makeup palettes for everyday simple and beautiful work or college looks. Invest in that one palette, ditch the extras, and keep it simple and budget-friendly.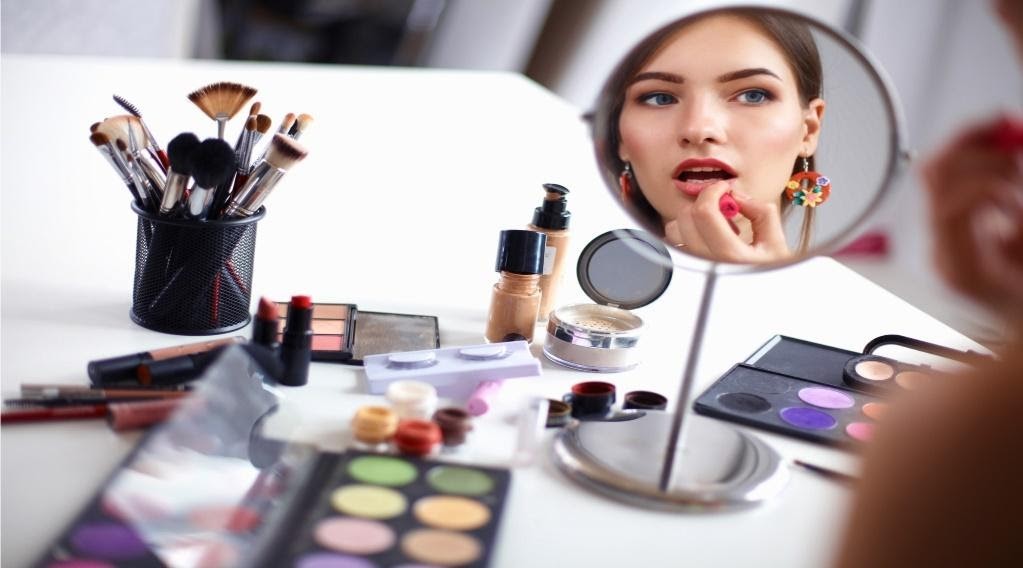 Click or Clip Coupons!
Why would anyone pay full for anything when we got coupons to slice the price of almost everything?
Coupons have been helping us save money for quite a long time. Look through your favorite magazines every Sunday and clip coupons when you find them. You can also
find coupons
for most of the beauty brands online. In fact, this is way easier. These coupons and promo codes can help you out on a regular basis by offering a generous discount at checkout.
Leave a message
Your email address will not be published. Required fields are marked *