Current Location
United Kingdom
Everything you need to know about Maternity clothes
Last updated: Mar 24, 2023
One of the most beautiful times in a woman's life is when she is pregnant. During this time, the body goes through a physical transition that necessitates the use of soft, comfortable clothing. The best garment for pregnant women is one that allows the abdomen to expand, which is necessary for both the mother and the baby.
In old days, most pregnant ladies used to wear their old clothes and didn't even think about buying stylish clothes during pregnancy. They were less concerned about their appearances, owing to the fact that they often felt 'out of shape' during pregnancy.
However, this is no longer the case, as many pregnant women work, socialize, and occasionally even travel worldwide and must maintain both comfort and attractiveness. Naturally, the wardrobe needs of today's expectant mothers differ from those of previous generations.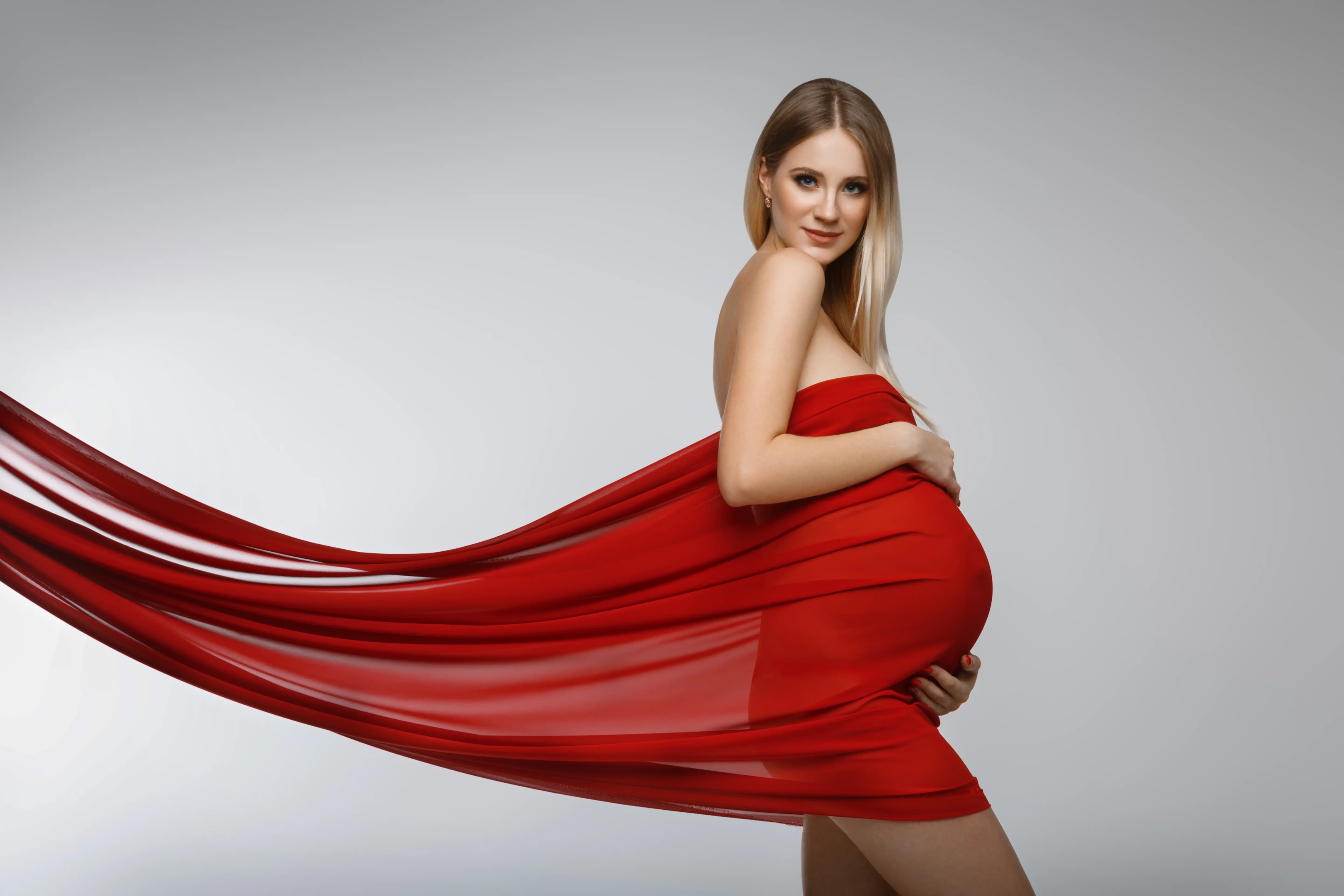 Why You Should Wear Maternity Clothes During Pregnancy?
Whether or not you require maternity apparel varies from person to person, just like initial pregnancy symptoms. You may be able to make use of roomier, comfier pieces from your previous wardrobe for at least the initial pregnancy phase, like maxi dresses, leggings, and oversized sweaters. This is especially true if you're a first-time mom because you're not as likely to show signs of pregnancy as women who have previously been pregnant.
Many tried-and-true maternity clothes hacks, such as looping a hair tie through your pants buttons to leave more space for your developing belly, or sewing your own tummy band to drape on top of unbuttoned jeans, may come in handy in the first trimester.
Between twelve and eighteen weeks, your belly will probably start showing, and by then, you'll probably feel and look better in garments that are suited precisely to your growing belly. Purchasing even a few maternity clothes essentials is preferable to purchasing huge and ugly pieces – or trying to fit yourself into what you currently have.
We have highlighted some of the benefits of maternity clothes down below:
There's a lot more to maternity clothing than just comfort!
Without a doubt, one of the most important reasons to choose maternity clothing is comfort. However, the concept of maternity apparel extends beyond simply providing comfort to the mother and child. It's a technique to stay safe while avoiding difficulties. During pregnancy, safety becomes increasingly crucial, and maternity apparel is unquestionably the best option.
Provides enough room for the baby to grow.
The infant, especially during the first trimester, and the expanding baby bump both require adequate space. Maternity clothes are meant to allow the baby to relax in the womb while also providing the mom with the necessary support during this time.
Allows mom to be more flexible.
Body motions are essential; a mother must move about and keep her body active. Prenatal yoga has some evidence-based benefits, so all of these body movements require a comfortable fabric that allows mom to remain flexible, which maternity wear may provide.
Breathability:
During pregnancy, the entire body begins to alter. Moms must give their bodies space and breathing room in order for the body and the baby inside to relax. When the correct fabric and clothing are chosen, breathability is achieved.
Breastfeeding convenience:
Maternity clothes are useful even beyond the nine months of pregnancy. When your infant is hungry, it's time to breastfeed, and you'll need enough room from your garments to feed the baby comfortably. Maternity garments are made in such a way that moms may easily nurse their babies.
When is the Best Time to Buy Maternity Clothes?
Pregnancy affects each individual differently. This implies that if you're wondering when you should start wearing maternity apparel, the answer is entirely up to you. P regnant mothers begin wearing maternity attire at various points throughout their pregnancy. However, there are a few signs that you're ready to shop for maternity wear:
It's not Thanksgiving, but your pants won't button: You will definitely know it's time to buy new pants when you feel the need to unbutton your pants, even when your stomach is empty. However,  If you aren't ready to give up your regular pants just yet, there is a quick fix with a hair tie. Simply thread the hair tie through the buttonhole. After that, loop both sides around the button.
Your baby bump protrudes beneath your shirt: It's certainly the right time to go hunting for some maternity clothes if your tummy is starting to pop out from under your shirt.
Your bra is too tight for you: For the health of your breast as well as the comfort, a correctly fitted bra is necessary. Consider purchasing a couple of maternity or nursing bras if your current bras are too tight.
Your button-down shirts are no longer button able: When you have to struggle to button up your shirts, you know it is time to invest in maternity clothing. You can still make use of your pre-pregnancy button-down shirts. If you put another shirt underneath and left it open, you could possibly get away with wearing these for longer.
You feel bloated and swollen are day, all week.
These indicators correspond to the baby's development in the womb. The uterus has typically grown to the level of the navel at 20 weeks." Many women start to show at this time; however, it varies according to the mother's body type, height,  weight gain, the number of embryos in the uterus, and whether or not it is her first pregnancy. The bulge usually 'pops' a little later in first pregnancies than in subsequent pregnancies.
During the first 12 weeks of pregnancy, resist the urge to start shopping for maternity clothes even though it's natural for first-time moms to get excited about being pregnant. During your first trimester, you're still dealing with the physical changes happening in your body. You should begin gathering your items at the start of your second trimester when your abdomen begins to take shape." However, if you encounter a pregnancy must-have on sale that you adore, there's no reason not to purchase it.
What are the Maternity Clothing Essentials?
When talking about maternity wear, "basics" and "essentials" are two terms you'll hear over and over. While some of the pieces may sound familiar from your pre-pregnancy wardrobe, others are pregnancy wardrobe basics that are specifically designed to accommodate and flatter your growing belly.
T-shirts: Invest in a couple of white, grey, and black maternity T-shirts. Nothing is better than these simple tees to complement your maternity jeans. 
Moms, where are your mom's jeans? You'll be relieved to know that you can still put on a pair of jeans despite all of the changes to your physique. And once you get a taste of super-comfortable maternity jeans, you wouldn't want to wear your old jeans again.
Day-to-day leggings:  Having a couple of pairs of leggings in your wardrobe is a good idea. They are the most comfortable option because they adjust according to your body hence a perfect fit.
Your undergarments should not be overlooked. Invest in a few trendy, supportive maternity bras and some comfy but attractive underpants. (Many pregnancy bras also serve as nursing bras, giving you added value for your money.) 
Trousers in Basic Black: Every woman needs a pair of black trousers in her closet, and this is true even during pregnancy. Choose a classic, fitted pair that can be worn to work and out on the town.
Over-Bump Yoga Pants: These might not look tempting at first, but after you're in month eight and on maternity leave, you won't want to take them off because they're so comfortable. They're ideal for wearing to pregnancy exercise sessions (or simply lounging on the couch!) thanks to the supporting band and loose shape.
Maxis: As your physique and silhouette change, a form-fitting variant of this famous dress may assist you in feeling less frumpy.
Your MVPs are LBDs:  You'll need at least one cute black dress that you can wear to a shower, a wedding, or an after-work gathering.
Wear blazers to look professional: A excellent second layer is an oversize blazer. It will keep you looking stylish throughout your pregnancy and will stretch to fit you.
Camisoles and a Longline Vest: These can be worn beneath non-maternity garments to extend their use time and provide essential bump support and coverage. Buy at least four to five, and seek for ones with clip-down straps so you can breastfeed your baby once he or she comes. In this way, they can also work as breastfeeding clothes and save you some extra money you might otherwise spend on buying nursing clothes.
Find out Super stylish ways to organize your baby closet head to supersaversmama.com
Few things to consider before buying maternity wear:
For pregnant women, there is no other fabric that can compare to cotton. Cotton is a soft, easy-to-wear fabric that is quite pleasant as well as comfortable. It is airy and the finest option for expecting mothers.
It is airy and the finest option for expecting mothers.
Consider wearing frocks, long skirts, flowy gowns, maternity dungarees and maxi dresses. Long gowns that are designed specifically for pregnant ladies are another great option.
Women who are pregnant acquire weight in their thighs. As a result, rubbing of the thighs can result in bruises. Wear light clothes that allow your thighs to breathe and move freely to prevent this problem.
Cotton innerwear is advised to prevent perspiration and rashes,
During pregnancy, any outfit that does not put pressure on your stomach is appropriate.
When you're at home, you can put on a pair of PJs. Loose, comfy nightdresses are also good.
Layering your clothing can help you mask your weight while also keeping you warm and safe. You may style a  spaghetti strapped shirt with a soft cotton shrug. Match it with a loose skirt or pants that are long enough to cover your bump. This is very comfy and simple to wear. 
Belts and other tight clothing should not be worn around the waist. 
What to Look for When Buying Maternity Clothes?
Remember these basic ideas while shopping for maternity wear to get the most bang for your buck. A few well-chosen products may even outlast the pregnancy.
Is it stretchable?
Carefully check the maternity clothes' fabric you're buying since you never know where the weight will continue to rise as you progress through each trimester. Anything made of flex fabric, stretch fabric, or jersey fabric will provide you with extra flexibility.
Check the sheerness of the fabric:
Sometimes all you have to do is lean over, touch your toes, and ask the changing room staff if she sees something she shouldn't. Because maternity apparel has a lot of stretches, it's crucial to check it out in motion. When purchasing maternity apparel, keep an eye out for fabrics that become sheer when stretched.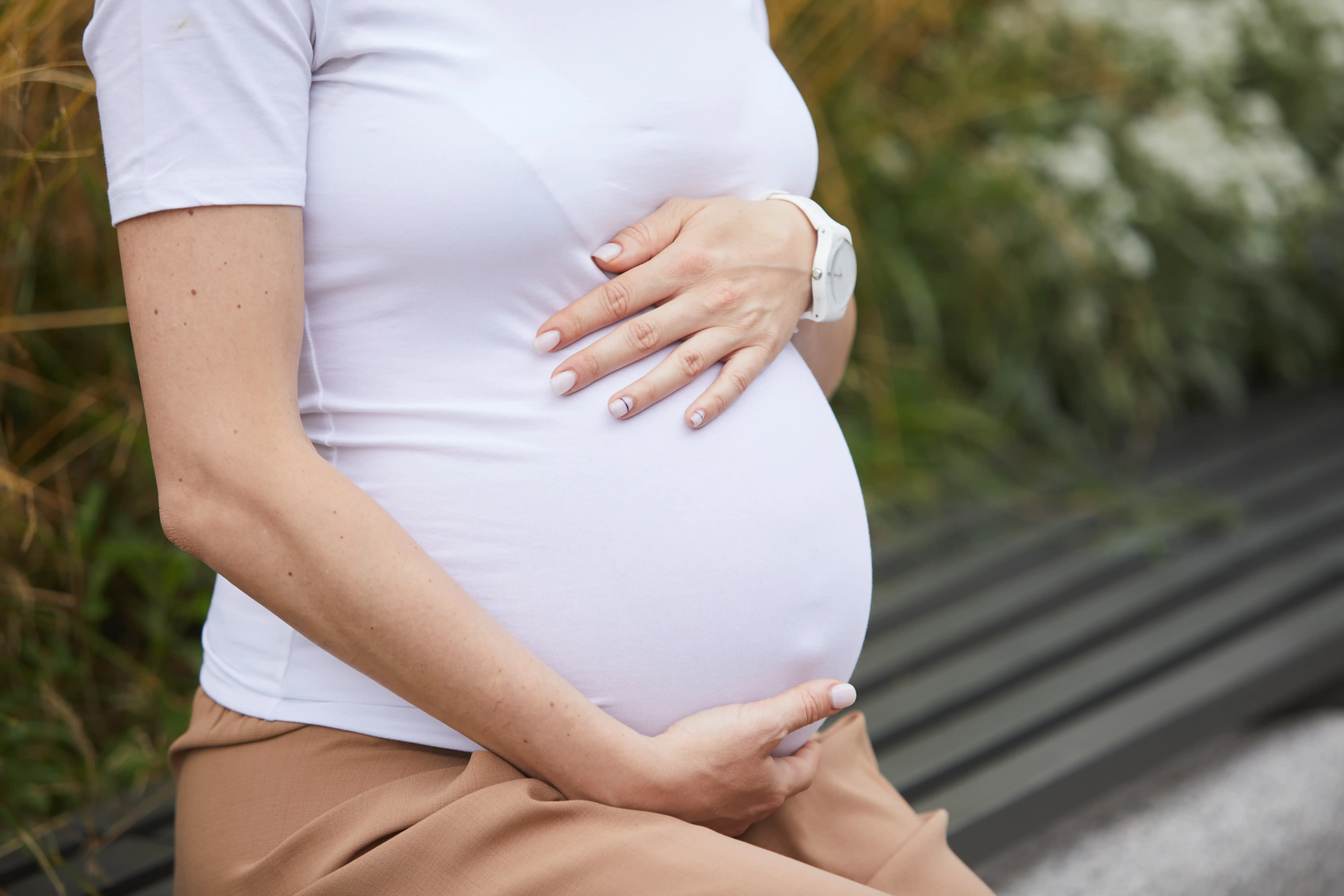 Don't be afraid of ruching.
Ruching allows your maternity garments to expand to accommodate your growing belly. It is suitable for all body types. Even if you buy anything with ruching in your first trimester, you won't have any problems wearing it in the later trimester because it flexes with your figure.
Don't limit yourself to pregnancy:
It's convenient and economical when a maternity brand has breastfeeding features built-in. Invest in maternity clothes that make you feel gorgeous and comfortable for your nine months and beyond if you plan on breastfeeding.
How to buy maternity Wear?
All indications lead to the requirement for maternity clothing. But where do you begin? Read on for advice on the essentials for your maternity wardrobe, as well as what to look for in high-quality maternity clothing and how to figure out your size.
What should be the size of maternity apparel?
At the time of first pregnancy, it is practically hard to predict the changes your body will go through as your pregnancy proceeds. As a result, estimating what size maternity wear you'll need is much more difficult. If you were a size six before becoming pregnant, you'd most likely be a maternity six. However, everyone is different, so based on how you carry your pregnancy, you could be a maternity eight or a maternity four. It has a lot to do with a person's body proportions." Also, keep in mind that not all parts of your body grow at the same time. "Because some women jump up several bra cup sizes before their tummy protrudes, It is recommended ignoring the maternity clothes sizing and buying what fits and feels right. Along with the right size, it is equally important to ensure the comfortability of the material you are buying.
How much should you spend on maternity clothes?
Choosing a few pregnancy wardrobe essentials is a fantastic place to start, but a lot of it depends on the season you're due and how your body changes. A good pair of maternity jeans and at least one pair of plain black leggings will get you through the pregnancy and into the postpartum period. Consider buying four to six maternity tank tops or T-shirts in colours that go with your existing clothing if you don't already have a few longer tees and tanks that can stretch over your belly. They're perfect for layering under a blazer, jacket, or smart cardigan. 
Investing in three to four versatile outfits that can be styled up or down, whether for party or work, is also a fantastic idea. You might also want a fancier dress for a pregnancy photoshoot, a wedding, or your baby shower, depending on your plans. Beyond that, you may just require seasonal items (for example, a winter coat that zips over your tummy or maternity swimwear).
Things to Avoid During Pregnancy:
Dressing up can be challenging while you're pregnant because your body is going through a wonderful transformation. This implies that, while caring for your increasing pregnant belly, you'll have to rethink your styling plan. Make a list of things to avoid during pregnancy before you go out and buy your maternity clothes.
Extremely Tight Clothing:
With the exception of specifically made light/maternity leggings, super tight clothes are always a no-no when it comes to maternal sportswear. So, if you're wondering if spandex or skinny jeans are safe to wear while pregnant, the answer is no. Anything that is too tight will obstruct blood flow to your growing bump and hinder your movement when exercising, resulting in rashes and chafing. Postpartum recovery shorts and other tummy-controlling clothes should be saved for after the baby is born.
Maternal sportswear and compression tights, on the other hand, are a great investment since they provide the right balance of support and room for your belly to expand - but they must be firm around the buttocks and pelvis to provide the support you need! 
Leather and Jeans:
Hormones in the body go into overdrive during pregnancy, causing many women to get hot and sweat profusely. You'll feel like you're on fire (not in a good way) if you wear heat-trapping synthetic textiles like leather and denim in your pregnancy.
Heels:
Nothing is more aggravating than attempting to squeeze your feet into shoes that are too small. The added weight of pregnancy weighs down on your legs, causing ankle and foot swelling (along with the extra half-foot size your feet tend to grow owing to hormonal changes); it's best to avoid heels during this time. Not only are they difficult to fit into, but the growing size of your baby bump is already straining your posture, placing undue strain on your lower back. If you wear heels on an already strained lower back, the tension on your pelvic area will increase.
 If you really want a dress shoe, go up a size to account for swelling, wear a stiletto under 3 cm, and use a back band and supporting arch for extra comfort.
Where to buy maternity clothes UK?
Pregnancy can feel like puberty all over again, what with all the physical and mental changes you're going through. It can be pretty daunting especially with the confusion surrounding maternity clothes. Questions like Where sells maternity clothes in store can be bothersome—unless, of course, you have a list of best shops for maternity clothes approved by expert maternity stylists in your back pocket.
Here is a list of the best maternity clothing brands and e-commerce sites to assist you in maintaining your sense of style during this great transition.
For a chic look:
Most of us are pretty aware of what's in style every season, and this doesn't have to change once you're expecting. No need to wonder where to buy maternity clothes UK these fashion retailers have contemporary maternity ranges that will keep you looking stylish during your pregnancy.
Jojo Mama Bebe
Ickle Bubba
Daisy Baby Shop
Cath Kidston
Hatch Collection
Loyal Hana
Isabella Oliver
For slaying at work:
It's difficult to dress for work while you're pregnant: You want to appear polished, but you also want to be  To get you through the day and into the evening, stick to tried-and-true maternity attire. Here is the list of best shops for maternity clothes
Daisy Baby Shop
Seraphine
Nordstrom
Ickle Bubba
Rosie Pope

For economical maternity wear:
As you'll only be wearing these outfits for a short time, you may want to stock your maternity closet without breaking the bank. Here's our go-to list of affordable maternity collection (but still look like a billion dollars) for those looking to keep up with the latest trends without spending much.
Cath Kidston
Online4Baby
Jojo Mama Bebe
H&M
Target
Ickle Bubba
Old Navy
For plus-size maternity wear 
Pregnant and plus-size? Curvy girls who want to flaunt their curves but are wondering where sells maternity clothes in store. Then worry no more you can find a variety of attractive and comfortable options available at maternity line of the following brands:
Daisy Baby Shop
PinkBlush
ASOS maternity
Storq
Motherhood Maternity
For slim mums-to-be
If you're petite and expecting, don't hide your baby bump in bigger outfits when you can find comfy pregnancy classics that fit your petite frame. Try these fashionable pregnancy clothes in small sizes. Moreover, you can also find a wide range of baby essentials in the following stores, particularly Jojo Mama Bebe. You can get milky baby clothing free by downloading Jojo Mama Bebe's Baby sleeping bag clothing guide.
Jojo Mama Bebe
Online4Baby
Storq
Daisy Baby Shop
Recent Blogs
Leave a message
Your email address will not be published. Required fields are marked*