Current Location
United States
All you need to know about the best rubber work boots
Last updated: Dec 1, 2023
If you work mostly outside in inclement weather or in a workplace where you may be exposed to hazardous factors, you'll need a solid pair of rubber work boots.
The best rubber boots for work are those that can keep the feet dry and comfy, but would also prevent you from potential workplace injuries.
Your choice of boots, whether you work on the farm, at a building site, or even in a mine, is critical. These boots may also be useful for some interests, such as gardening, hunting, or even home renovation projects. It's important to be safe.
The majority of rubber boots are built to last, to withstand the passage of time and wear. Their principal duties are to protect and keep your feet dry in any type of cold weather.
Know which rubber boot brands make the best rubber boots for work!
Insulated Rubber Muck Boots
Price: $90-$170
Buy on: Amazon
Insulated rubber muck boots are our foremost choice to go with when deciding upon the best rubber work boots since this work boot is made of high-quality rubber that is both flexible and durable. Even in the dirtiest of work environments, it looks excellent. It's completely waterproof! It is made of neoprene rubber and is quite durable. DuPont invented neoprene rubber in 1931, and it has been in use ever since.
The 17-inch "tall" Muck Boot has excellent outsoles that protect against water, grease, ice, and chemicals, among other dangers. These outsoles will provide excellent traction for mechanics operating in greasy areas.
Features:
Comfort and flexibility are provided by the 5 mm neoprene.
Comfort rating from -40 °F/-40 °C to 40 °F/4 °C; 2 mm heated foam underneath the insole and warm fleece lining provide great warmth in freezing conditions.
MS-1 moulded outsole with 17-inch height for enhanced protection in wet, icy, and snowy weather.
100% waterproof work boots with a steel toe that protects against above-the-knee impacts and satisfies ASTM F2413-11 M I/75 C/75 EH.
It comes with a fleece lining
Steel safety toe which absorbs shock
Waterproof
EH rating criteria are met.
Dunlop 8677609 Chesapeake Boots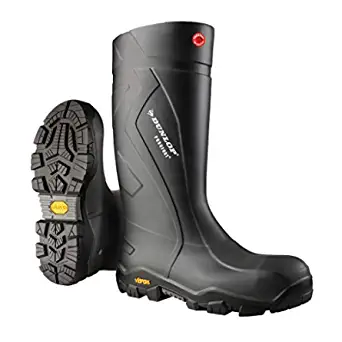 Price: $95 - $160
Buy on: Amazon
The Dunlop Chesapeake is our second choice for rubber work boots specially for those on a tight budget, this is an excellent work boot. It's reasonably priced and ideal for farmers and other agricultural workers, in short they are best rubber boots for farm work. Despite the low price, it has a toe cap for added protection and a Bay-Loc outsole for shock absorption. Many people may find the insole to be too thin.
Features:
Steel toe approved to ASTM F2413-11.
Waterproof to the core.
Made in the United States of America.
Modern, light-weight design PVC boots are 25% lighter than leather boots.
BAY-LOC energy-absorbing outsole with water-repellent grooves.
The price is quite reasonable.
It's quite light.
LaCrosse Meta Pac Met Boot
price: $90-$190
buy on: Amazon
Now comes the time to tell you about the Meta Pac Met-16 inch steel toe work boot for men from LaCrosse, which is suitable for milder temperatures, although it isn't well insulated but it is a heavy-duty black waterproof steel toe rubber boot for work and a metatarsal shield to ensure your feet are adequately protected. This can be a good option for you if you operate with iron, hefty timber, or any other form of heavy material.
With a method that allows you to lace up at the top, the boot is extremely easy to slip into. This is a 16-inch tall boot with a rubber double layer on the toe for enhanced protection and long-term durability.
Features:
Protective toe and metatarsal guards.
Abrasion-resistant toe guard with two layers.
Lace-up option for a secure fit that may be adjusted.
Waterproof protection without sacrificing style.
ZXT ozone and tear resistant rubber is 100% natural and handcrafted.
Sole made of rubber.
Rubber is the only material used.
Metatarsal guard is a type of metatarsal guard that protects the
Toe is extra strengthened.
System of lace ups.
Bogs Waterproof Insulated Rubber Boots
price: $80-$150
buy on: Amazon
The Classic waterproof and high insulation rain boot by Bogs are another one of our picks among the rubber boot brands which is a rubber work boot made of synthetic rubber and cloth that is waterproof. Rubber and leather make up the sole. It also has a cushioned insole and a composite safety reinforced toe for added protection.
Features:
The item is completely waterproof.
Hand-lasted organic rubber with a four-way stretch inner bootie.
Outsole is non-marking, non-slip, and self-cleaning.
For optimal support and movement, contour fit is recommended.
Temperatures range from moderate to -40°F or sub-zero.
Cushioned footpad.
To -40 degrees Fahrenheit, insulation is provided.
Toe made of composite rubber.
Timberland's 6-inch rubber toe boot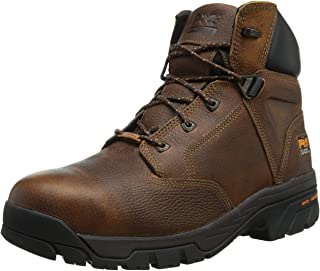 price: $80-$170
buy on: Amazon
Timberland's 6-inch rubber toe boots for men which are exclusively available at finish line are also one of our top choices for the durable, high quality rubber boots which are a classic wheat nubuck leather and is boldly updated with rubber toe caps and overlays for increased practicality in these 6-inch waterproof boots. They're crafted with recycled and responsibly sourced materials, in keeping with both brands' commitment to sustainable design and providing both arch and heel support, which helps crucially in gardening.
Features:
Uppers are made of premium leather.
Timber-Dry is a water-resistant product that is also environmentally friendly.
Rubber toes that have been moulded.
Leather0lined.
Tough rubber outsole for tugging.
Imported.
Why we prefer synthetic Rubber Boots!
The weather is, of course, the most crucial factor in deciding on rubber boots. Rubber boots are well-known for their ability to defend against heavy rain and even snow. If you can't escape puddles, mud, or slush, a good rubber boot will rescue the day, and you'll be glad you wore them in the first place.
Another factor to consider when buying rubber boots is your working environment. Are you in a potentially dangerous situation? These boots can be extremely useful if the flooring or pavement is slick, as they will protect you from falling. Your feet will be shielded from injury if a hammer or other heavy object falls on them.
Most rubber boots can also provide protection if you work in a hot area, such as mines or factories. Last but not the least, the comfort that a pair of rubber boots can bring if you are required to stand for the majority of the day at work. For farms, ranches, and a pair of waterproof hunting boot, are a must-have,
Rubber boots have two main advantages: they can retain heat in cold weather and they give excellent traction on wet surfaces. They're also really simple to put on and remove, and they endure for a very long time.
A pair of muck boots is actually an ideal choice specifically when going out for a hunt, since they prove out to be the best rubber hunting boots, with respect to grip as well as durability.
We did some digging!
We spent a considerable amount of time investigating what is currently available on the market. As a result, we discovered that there are numerous sorts of rubber boots to choose from. This is what we found out.
Rainboots or Wellingtons
Rubber boots were created to keep out the rain and filth. The "Wellingtons," popularised by the Duke of Wellington, are perhaps the most well-known. These were the very first multi layered vulcanized rubber.
Boots for work
Work shoes were important for workers in hazardous environments as a result of unprecedented industrialisation in the 1920s and compensation regulations. Rubber boots have become popular because they are resistant to water, chemicals, heat, cold, and oils.
Hunting or fishing
Rubber boots with neoprene make excellent footwear for fishing and are also considered to be the best rubber hunting boots. These boots, which come in camouflage hues, are odourless on the trail and particularly efficient while wading through water. The "duck boot," which is designed for wading in shallow water while hunting, is a popular variation. Rubber boots are the only option for professional anglers.
However talking about the best rubber hunting boots, muck boots are the top priority for the kind of rubber boots to be chosen for the hunting purpose, and for that we have the 8 Best Muck Boots for Hunting in 2022 that will help you select and prioritize what you need the most.
Rubber Boots for Multi-Purpose (Generic)
It is not necessary to have a special reason for having a good pair of rubber boots on hand. These boots will be useful for gardening, hiking, and other ranch activities.
We Selected The Best Rubber Boots, How?
Here are the factors we took into account when making our finest decisions.
Rubber is undeniably durable, but the manufacturing process may make or break a boot. Typically, these boots are comprised of rubber that has been combined with another component before being moulded into a certain size boot.
Vulcanization is the term for this process. There will be very little stitching, if any at all. Boots will be waterproof and durable thanks to the single rubber unit construction.
Most rubber boots now have lining variations that can provide comfort, warmth, and a little of cushion for long days, thanks to contemporary technology.
While rubber is relatively rigid but does not provide proper ventilation for your feet, any extra materials used in the boot, particularly the interior lining, become extremely significant.
Comfortable Rubber Boots, Is It A Possibility?
This is especially important if you plan on wearing your boots all day. Rubber boots may not be ideal for hot conditions, but they can truly save the day if you live and work in an area where there is a lot of rain or snow.
They keep your feet dry and clean at all times. Most rubber boot makers now incorporate cushioning and soft lining, as well as insulation for colder weather conditions, which purchasers can inquire for.
When examining a pair of rubber boots, this is a critical factor to consider. What safety features are included in the package? Is the structure substantial? Is it guaranteed that they will not be damaged by the elements?
Some may even have steel toe caps, strong midsoles, and chemically resistant materials. A excellent rubber boot for hunters may come in camouflage hues, and some may be made of odor-resistant materials.
Style
Even if you aren't going to a fashion show, style is a crucial factor to consider. The height of the boots can be a deciding factor. Tall boots, ankle boots, and calf-high boots are all available in a variety of hues and patterns. Depending on the type of work you plan to do with the boots, the closure may be a significant consideration.
The size of the boots and how well they fit are the most important factors. You want to avoid blisters caused by too-loose boots as well as discomfort caused by too-tight boots. Is there calf sizing available for taller boots? Is it possible for me to wear thicker socks because of my size? Do I need to go up a size?
Yes, we Tested It!
We put these items to the test by having our staff wear them for many days in a variety of weather and climatic settings, as well as in varied job circumstances. To obtain a good idea, we tried them on the farm, in the industry, and in ecological waste collection. After that, we exchanged notes and decided on our finest rubber boots for work options.
Do Rubber Boots Have an EH Rating?
When learning about rubber boots for work, you might be curious about the EH rating. Any pair of work shoes or work boots that receives an EH rating has indeed been classified as having a "electrical hazard." This indicates that these boots have been evaluated by the American Society of Testing and Materials to ensure that they protect against electrocution.
Boots with this grade have been created to safeguard workers from up to 600 volts in such a dry environment. This footwear is made with electrical shock-resistant soles & heels which do not behave as electrical conductors.
The best rubber boots actually protect you from snake bites!
Rubber work boots with anti-snake bite protection are also available. If you work in an area where these critters can be found, or if your line of work exposes you to this risk, you should look for this type of boot in particular.
Snakebite testing is carried out by a number of manufacturers, including Muck Boot Company and LaCrosse Footwear, to guarantee that their footwear is sufficiently resistant.
Advantages of Using Rubber Work Boots
Waterproof
One of the most important advantages and reasons to buy rubber work boots being that they are completely waterproof, providing the finest protection to your feet in wet or flooded conditions.
Rubber work boots provide the most firm and steady grip on slippery wet surfaces, reducing your risk of harm or injury from a fall or slip.
Furthermore, this traction provides sufficient surface friction, allowing for the development of leverage when pushing or pulling big objects without slipping.
Grounding Defense
If a live wire came in contact with a flooded or damp location, best rubber boots are those can help prevent inadvertent electrocution. When conditions are unknown after a hurricane or natural disaster, rubber work boots might just save your life.
Water Protection
Most rubber work boots stretch to the mid-calf or higher, keeping water from penetrating the boot. This is especially helpful in flood situations, where you may be wading through many inches of stagnant water or muck. They also provide important protection and support for the ankle and foot joints from inadvertent impact.
Lightweight and flexible
Best rubber work boots are those which get the advantage of being made of an extremely lightweight material that won't add unnecessary weight to your feet when you're walking a lot. This reduces tiredness and listers, as well as contact sores, which are caused by thicker, heavier materials.
No odor
Rubber work boots are great for hunters because they keep the scent of your calves and feet from leaking into the natural surroundings and accidently alerting delicate animals to your presence.
Pricing for best rubber work boots
Less than $50
A simple rubber boot can be purchased within this price range. Completely waterproof, but lacking in amenities such as cold-weather insulation or a range of styles and colours.
$50-$100
In this price range, there are various rubber work boots to choose from. Differences in tyre designs, boot height, colour, and degree of insulation will become apparent.
$100 or above
This pricing level is designed for people who do a lot of work in their rubber work boots. Work boots in this category are frequently built of the highest-quality materials and have the highest levels of insulation, allowing you to work in almost any weather or mud.
Rubber Boot Brands That Produce The Best Rubber Boots For Work.
Caterpillar
An early pioneer in the creation and use of industrial equipment and supplies, Caterpillar has been around since 1892. Large mining and earthmoving equipment were among its many firsts, as was its solar-powered turbine technology, which was revolutionary at the time.
Caterpillar also produces industrial clothing and equipment, such as steel toe work boots.
The original producer of Muck Boots:
Rubber work boots have been manufactured by the Muck Boot firm for almost 20 years. Rugged rubber boots that can survive the most extreme weather conditions are what this company is best known for.
Crocs
In 2022, Crocs introduced the world to a brand-new type of footwear. Now a globally recognised brand, Crocs' collection of work boots and sandals is waterproof and weather-resistant.
Shoes like the Women's Neria Pro II Graphic Clog and the Men's Bogota Flip Flop are among the company's cutting-edge offerings.
ArcticShield
In order to allow hunters to spend more time outdoors without having to endure the hardships of harsh climates and subzero temperatures, ArcticShield was created by hunters for hunters.
Its best-known products include the Realtree Edge Quiet Tech Jacket and the Blaze Orange Performance Fit Bib.
Concluding remarks for the best rubber work boots
Knowing what to look for in rubber work boots, as well as their high level of practicality and functionality. Rubber labor work boots have come a long way since the early days of the dreaded "Wellie." While some may be skeptical about comfort throughout a long day at work or while standing, current manufacturing may surprise you.
Rubber work boots' comfort is no longer a hoped-for fantasy, thanks to firmer outsoles, linings, and cushioning. Work boots that hug the legs, providing a snug fit and keeping the legs warm in inclement weather, are also new models.
It is now possible to install separately purchased soles to less expensive models that lack padding to provide additional comfort.
Following a day of wading through wetness and dirt, our SSM team noticed that our boot options provided dry feet. Rubber work boots are a suitable choice in colder climates where insulation is available. All of our testers, as well as the countless user evaluations we looked at, gave our list of the best rubber work boots a thumbs up.
Almost any of these work boots would do, but you should first determine your needs before comparing the features offered by each brand.
Recent Blogs
Leave a message
Your email address will not be published. Required fields are marked*