Current Location
United States
6 Best Boot Gaiters for Hunting 2022
Last updated: Dec 1, 2023
Going on a hunting adventure? Fully equipped yourself with everything? Aren't you missing gaiters with your boots? Keep in mind that the boot gaiters are one of the most vital essentials you would require for your hunt.
It is a no hidden fact that hunting is rough. You are going to step in dirt or mud and that too in extreme weather conditions or in the toughest terrains. So, the best you must do is get yourself high-quality boot gaiters.
These high-quality boot gaiters are going to be your companions in snow, rain, gravel, etc. They would even protect you from snake bites and other hazards. It all depends upon what product or brand of the boot gaiter you choose.
To pick the best boot gaiters for hunting, you should look for the best material, perfect fit, and resistance against water. Considering these factors helps with the complete protection of your leg. This article suggests some of the best boot gaiters for hunting 2022, so do not give it a miss.
1# Outdoor Research Crocodile Gaiters
Not sure how the weather is going to treat you at the field? Then take these Outdoor Research Crocodile Gaiters which is a perfect choice for all kinds of weather. The fastening on these gaiters is very simple, adjustable, and renders a good grip, making them a comfortable choice for all hunters.
The thing that makes these weather-resistant boots stand out among others is that they are completely noiseless and you may walk in them to hunt animals without any fear of the boot noise.
Top Features:
Made with 100% Gore-Tex nylon material
Light in weight
Waterproof
Abrasion-resistant
Breathable
Windproof
Laminated
Sturdy straps and buckles
Incredible Durability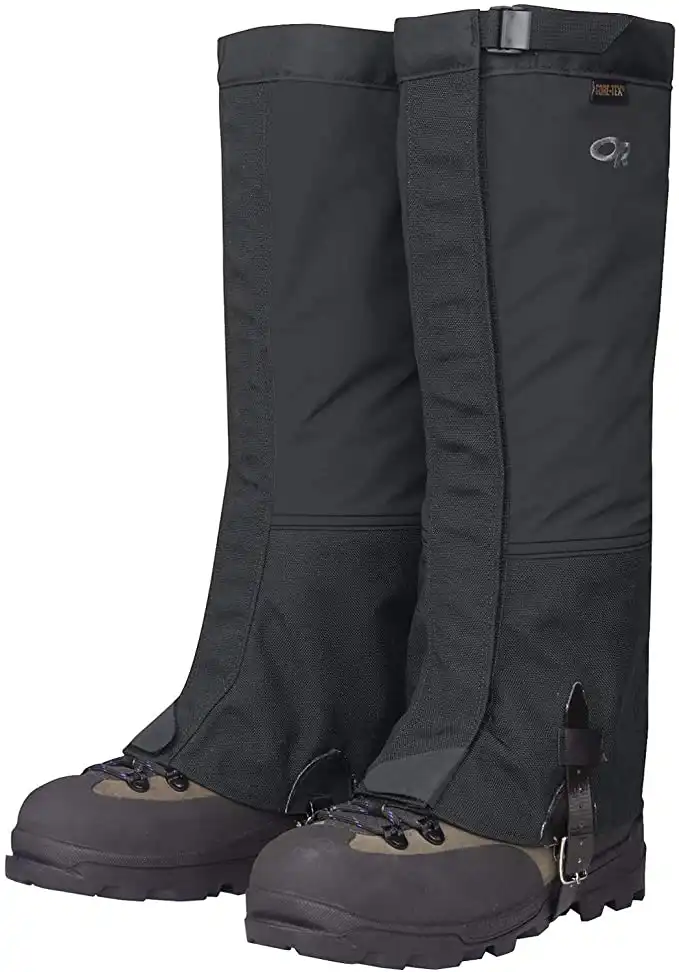 Price: $88.95 - $89.00
Available Sizes: Small, Medium, Large, X-Large, XX-Large
2# Knight & Hale Real Tree Snake Proof Gaiters
Hunting is never too easy, especially when you are stepping on a ground full of snakes or other deadly insects. You would definitely need snake bite protection. But wearing snake proof gaiters above the FinishLine Boots can protect you from any bites or ticks, making your journey comfortable and more adventurous.
Top Features:
Made with thornproof ballistic nylon.
Protection against ankle and calf from venomous snake bites
Lightweight design
Breathable
Form-fitting adjustable straps
Internal polycarbonate shield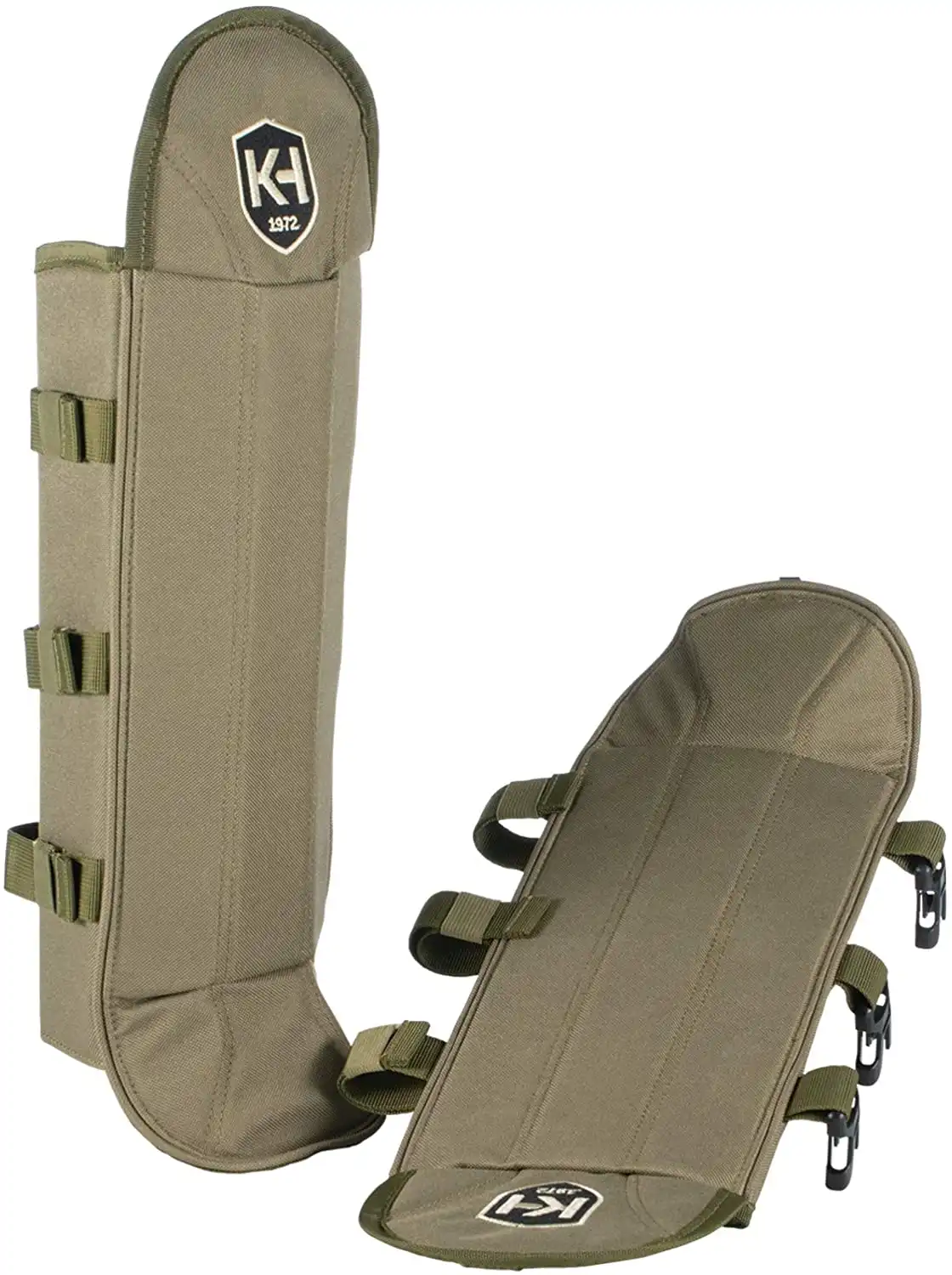 Price: $39.99
Available Sizes: One Size (KHT0094)
3# Hillsound Armadillo LT Rain Gaiters
The Hillsound Armadillo LT Gaiters are specifically designed to protect the hunters from mud, rain, and brush. Besides, if you are looking for a long-lasting gaiter then this can be your apt choice. These rain gaiters come with a lifetime warranty, so what else do you need? Isn't it amazing?
Top features
Made with 89% nylon, 8% polyurethane, 3% elastin
Flexible
Light in weight
Sleek Design
Adjustable buckles and straps
Waterproof
Water-resistant zipper
Tear-resistant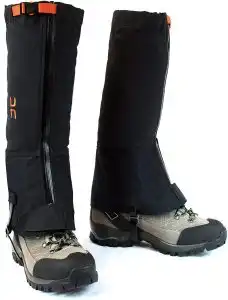 Price: $65.00
Available Sizes: X-Small, Small, Medium, Large, X-Large
4# Kenetrek Hunting Gaiters with Velcro Closure
Another boot gaiter that makes up the list of the best gaiters for hunting is this highly breathable and camouflaged Kenetrek Hunting Leg Gaiter. The contour design of these gaiters makes them suitable for any kind of boots you shop from Crocs. The most distinctive feature of the Kenetrek hunting gaiters is its special Stormblocker membrane that renders supreme protection against rain and snow.
Top Features:
Made with Nylon
Stealthy and Noiseless
Stormblocker membrane
Robust
Special Protection against snow and ice
Waterproof
Adjustable straps and buckles
Price: $38.97 - $109.99
Available Sizes: Medium, Large, X-Large
5# First Lite Brambler Hunting Boot Gaiters
In search of the best gaiters for Elk hunting? Then nothing can beat the First Lite Brambler Hunting boot gaiters. Its distinctive fusion of five different colors makes you completely invisible from the sight of the Elk.
Want to know the best part of the First Lite Brambler Hunting gaiters? They are designed with advanced active particle technology that helps in maintaining the optimal core body temperature.
Top Features:
Made with polyester and nylon
Weatherproof- (All-season gaiter)
Sturdier fabric
Breathable
Water-resistant
Hook-and-Loop Fastening
Adjustable straps
Machine-washable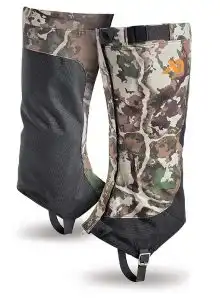 Price: $80.00 - $85.00
Available Sizes: S-XL
6# SITKA Gear Stormfront GTX Gaiter
If you are one of the hunting enthusiasts then get your hands on these highly durable Stormfront GTX Gaiter. The exclusive 3-layer GORE-TEX design helps in keeping the moisture away even in rugged environments.
Top Features:
Made with 100% Polyester
Lace-up closure
Cam lock buckle
Internal ladder lock strap system
Hook and loop with snaps
Over-the-Calf Height
Elasticated cuffs
Breathable
Excellent noise reduction (against rocks, rough terrains)
Price: $149.00
Available Sizes: Medium/Large, Large/X-Large
Conclusion
The boot gaiters are for your comfort and safety and the best ones would always make your hunting experience much more thrilling. The aforementioned boot gaiters are some of the best ones in the market currently in 2022, and this list is hopefully going to help you in making a smart choice.
However, if you are looking for the best boot gaiters with all qualities and features, then shop the much-in-demand Outdoor Research Crocodile Gaiters at affordable rates from the leading store, ShoeCarnival, only with SuperSaverMama vouchers.
Recent Blogs
Leave a message
Your email address will not be published. Required fields are marked*