Current Location
United States
9 Best Double Sleeping Bags For Camping With Your Snuggle Buddy
Last updated: Dec 8, 2023
Camping is always fun and adventurous. Going on camping with the people you love hanging out with can be a great experience for you. Most people love to go camping with their family or friends. If you are planning to go out camping with your family or your life partner then having a sleeping bag with you is essential. Sleeping bag on camping is very vital and no camping is complete without a sleeping bag so for that reason we have brought you the list of 9 best double sleeping bags.
Every night at home, you and the baby or your partner sleep in the same bed, so why should it be any different when you're camping? The sheer thought of having a few inches of dead space between two separate sleeping bags might keep you awake at night – whether you hug for affection, comfort, or because you believe every sound outside the tent is a flesh-eating bear.
Enter the double sleeping bag: the most convenient option for couples to be close when camping. Some twin sleeping bags are enormous, with flannel linings, and take up a lot of trunk room, whilst others have down or synthetic fills that stow up small for simple transit and even backpacking. But they all allow you to bump into your significant other as often as your adventurous heart desires, no matter how many miles separate you from the comforts of home.
Best Double Sleeping Bag:
TETON Sports Mammoth Double Sleeping Bag: the best oversized double sleeping bag.
NEMO Jazz Duo Sleeping Bag: just like your guest bed.
Sleepingo Double Sleeping Bag: the best value for money.
Kelty Tru.Comfort 20-Degree Doublewide Sleeping Bag: the most customizable.
Big Agnes King Solomon 15 Down sleeping bag: the best backpacking sleeping bag.
Big Agnes Dream Island 15 Synthetic Sleeping Bag: the best choice for restful nights.
Coleman Tandem 45 3-in-1 Double Sleeping Bag: the best snag-free sleeping bag.
CANWAY Double Sleeping Bag with 2 Pillows: the most affordable flannel-lined bag.
REI Co-op Kingdom Insulated Sleep System 40: the best all-in-one double sleep system.
What To Think About:
Insulation:
Sleeping bags are filled with either down or synthetic feathers, or a combination of the two. Synthetic bags are less expensive and work better when wet, but they are heavier and do not compress as well. Down sleeping bags are more expensive, but they weigh less and compress more compactly, making them ideal for hiking.
Temperature ratings:
Each bag's title includes a number indicating its temperature rating (in Fahrenheit). Choose a bag that is rated slightly lower than the lowest temperatures you are likely to encounter. For example, if the nighttime temperature drops to 30 degrees in the summer, a 20-degree setting should suffice.
Mummy bags are the most popular shape. They are smaller, lighter, and more thermally efficient than other forms because they feature a tapered shape with less wasted space and fabric. Semi-rectangular bags have greater wiggle room, which results in more fabric and a heavier, bulkier product.
Extras:
Because double sleeping bags are normally designed to provide a deluxe car-camping experience, they will typically have a comfort-enhancing feature, such as an integrated blanket or pillows, additional zippers for temperature adjustment, or sleeves for your sleeping pads.
HOW WE MADE OUR SELECTIONS
Our editors extensively investigated a wide range of current options to compile our list of suggestions for the finest double sleeping bags. We carefully analysed the type of insulation, the temperature rating, the design, the extra features, and, of course, the price. Many of these selections were chosen based on our editors' actual camping experiences. The others were chosen after hours of research on new technologies, trends, and user feedback surveys. Continue reading to find out more about the finest double sleeping bags for a camping couple.
1) BEST DOUBLE SLEEPING BAG OVERSIZED: Mammoth Double Sleeping Bag by TETON Sports
Price: $99.99 - $159.99
Teton Sports didn't name this bag "Mammoth" by accident. It measures 94 by 62 inches, which is larger than a queen-size bed and provides more than enough space for two large adults. There are also a variety of warmth alternatives for various conditions, such as this 0-degree bag (pictured) and this 20-degree bag for warmer bodies.
Even if you don't have an air mattress below, the velvety filling in this double sleeping bag reminds us of sleeping in a pillow fort (oh, childhood). You can even zip this double-wide sleeping bag together with another to produce one large comforter, ensuring that there is enough room for everyone at the next slumber party.
Concerned about getting your suitcase dirty? When combined with this washable, removable sleeping bag liner, it's as if you're sleeping on a new set of sheets every time you go camping.
2) SIMILAR TO YOUR GUEST BED: 20-Degree Nemo Jazz Duo Sleeping Bag
Price: $79.99 - $210.98
Nemo produces some very luxury gear for backcountry campers that prefer the comforts of home. The Jazz Duo twin sleeping bag, which has enough room for two 6-foot-4-inch humans to stretch out, may equal the comfort of your guest bed.
This bag has an incorporated blanket fold toward the head for extra material to snuggle with, as well as a fitting sleeve to keep your sleeping pad in place.
The synthetic fill isn't as packable as down, but it provides warmth down to 20 degrees, retains loft even when wet, and is far less expensive than comparable down choices. Bring on the rainy-day camping.
3) BEST BUY ON A BUDGET: Double Sleeping Bag from Sleepingo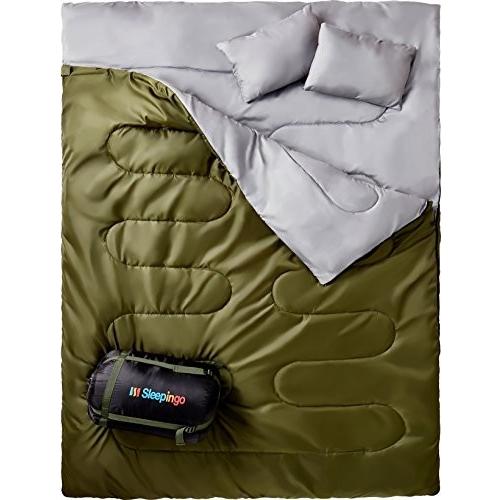 Price: $57.95
Sleepingo's double sleeping bag has an average rating of 4.8 stars (out of 5) from over 13,000 Amazon reviews, with people applauding the entire value you get for a price you can't beat.
The exterior fabric resists rips, while the inner layer is silky soft to the touch. It folds up small enough to fit in the included stuff pouch, and it even comes with two compact travel cushions to lay your head-on. This deal is hard to pass up for the occasional or budget-conscious camper.
4) MOST PERSONALIZABLE: Kelty Tru. Comfort Doublewide 20-Degree Sleeping Bag
Price: $209.95
Kety's Tru is for you if you and your boo can't envision a night without incidental contact. The importance of comfort is self-evident. Every detail of this bag has been meticulously planned.
For starters, it's broader than typical double sleeping bags, allowing you to use your beloved standard-size pillows from home. There are numerous zippers to allow hot sleepers to change their comfort levels, including the opportunity to peek their toes out the bottom and cool down a little.
It even comes with two different snuggling blankets, allowing you to stay close and cosy without grabbing all the covers.
5) MOST SUITABLE FOR BACKPACKING: King Solomon 15 Down Double Sleeping Bag by Big Agnes
Price: $365.95
When every weekend is a different hiking trip with your partner, you realize that evenings may be pretty darn cold and that sharing body heat is essential. Don't sleep on opposing sides of the tent; instead, snuggle up side by side in Big Agnes' 15-degree down double sleeping bag.
King Solomon folds up tiny enough to fit in a large rucksack. It has a small ripstop microfiber softshell and a unique draping effect, so it's almost as cloud-like as your bed's down comforter, but it's less likely to tear while you're miles from the trailhead.
Furthermore, the beneath sleeve fits two single pads or one double-wide sleeping pad, so you won't be slipping and sliding all night.
6) MOST SUITABLE FOR DREAMY NIGHTS: Dream Island 15 Synthetic Sleeping Bag by Big Agnes
Price: $242.96
A moderately-priced synthetic bag might make the ideal wilderness bed for camping couples who aren't fighting winter storms. Enter Big Agnes' Big Creek, a 30-degree double sleeping bag that, despite its technical and waterproof characteristics, is very soft.
The Dream Island 15 comes with the brand's famous sleeve underneath, which prevents squirmers from waking up on the cold, hard ground. Meanwhile, the Free Range Hood provides some wiggle area for your head (while yet cradling it) for optimal warmth and comfort. For the more casual backpacking couple, it's the ideal combination of comfort, packability, and cost.
7) FAVORITE SNAG-FREE SLEEPING BAG: Tandem 45 3-in-1 Double Sleeping Bag by Coleman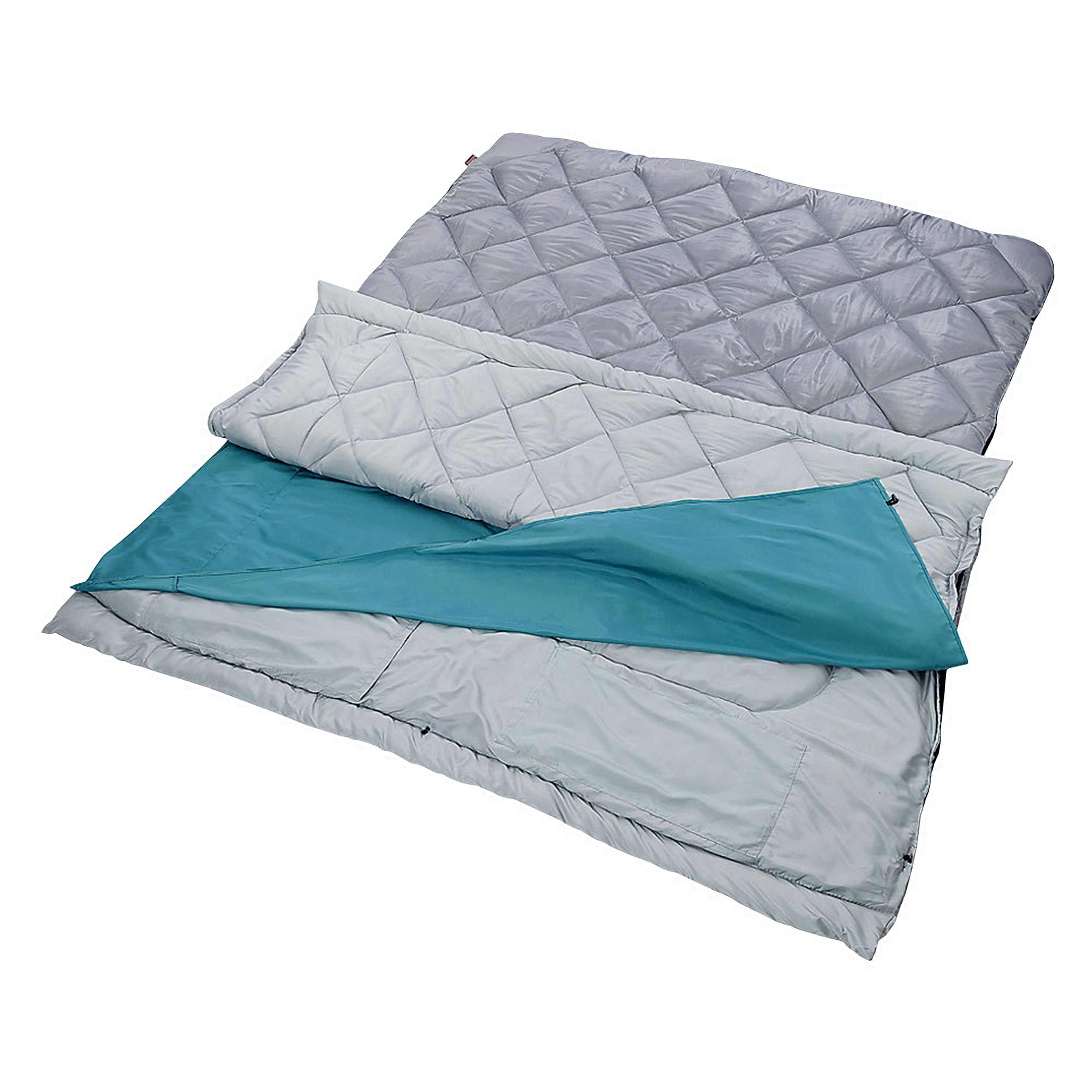 Price: $98.00
Coleman continually supplies economical gear for recreational users when it comes to comfortable car camping. Tandem is a 3-in-1 system that zips apart into two distinct bags, contains a detachable microfibre sheet for layering, and is designed for temperatures ranging from 30 to 50 degrees.
The ZipPlow technology – a no-snag zipper that essentially minimizes the possibility of getting your zipper hooked, even if you're recklessly one-eyeing it after midnight — is our favorite feature.
8) MOST CHEAP FLANNEL-LINED BAG: Double Sleeping Bag with 2 Pillows from CONWAY
Price: 49.99
If you're new to camping but aren't sure how often you'll go, this inexpensive double sleeping bag is the answer. It includes a water-resistant polyester shell to keep you dry if the interior of your tent gets wet, and a cotton-filled flannel lining for comfort that will remind you of camping with the girl or boy scouts when you were a kid.
This twin sleeping bag can keep you toasty even in temperatures as low as 40 degrees Fahrenheit. This bag may be unzipped into two individual bags if you're over snuggling or camping alone. It also compresses down into the supplied stuff pouch using compression straps to save valuable cargo room.
9) BEST DOUBLE SLEEP SYSTEM IN ONE: 40 REI Co-op Kingdom Insulated Sleep System
Price: $299.00
The Kingdom Insulated Sleep System from REI is a luxury sleeping set up in a box. It comes with an insulated queen-size air mattress, a quilted mattress cover, an insulated blanket with an attached top sheet, a hand pump for simple inflation, and a carry bag for easy transportation.
Anyone who claims you can't get a decent night's sleep outside has obviously never experienced REI's comfortable sleeping setup for two.
Our Top Picks for single sleeping bag
1) Rei Lumen Review
The REI Lumen is good for use in almost all temperatures, but if you test it against cool and damp conditions such as Washington's coastal trails, it really shows its worth. However, the bag's heftiness brings down the joy derived from its great performance. Out of all the bags that we've tested, this one is the second heaviest, behind the Big Agnes Lost Ranger. It's also disappointing in terms of compactness.
Compressibility of Rei Lumen
The synthetic polyester bag, owing to its insulating capability, stays warm even when damp. However, it's not so great when it comes to compactness. It can come down to an eight by 15-inch sack.
The warmth of Rei Lumen
Although the Lumen is comfortable-fit, it leaves a few air pockets from where cold air could flow through. The foot area was a little too spacious, which could cause your feet to get cold. I liked how spacious the torso area was. However, some testers felt the overall width was too great for 3-season backcountry use. The bag, with its synthetic material, did live up to its reputation of insulating heat even when it was being dampened. The hood is cinched comfortably, helping seal in body heat.
Features of Rei Lumen
A few testers who appreciated being able to have a tiny torch or headlamp nearby throughout the night gave the narrow pocket around the neckline modest praise. I particularly like how the drawcords are distinguishable: The cinching cord is round, while the releasing cord is flat. This makes it simple to find the correct cord at night.
The Lumen has a full-length zipper for easy access and breathability, and the backing tape works well to keep snags at bay.
Overall Comfort of Rei Lumen
The Lumen provides uninterrupted sleep due to its comfortable fit. I moved from my side to back to my stomach all night without ruining my sleep. Some people, however, consider the generous cut to be a little too generous. I really liked the shoulder area width, but Lumen could do better with the foot box. It gets a bit too cold because of the spaciousness. The hood cinches securely and comfortably but can open wide enough should you require a pillow.
The durability of Rei Lumen
The ripstop nylon shell withstood extensive use and abuse on a range of surfaces with no noticeable effect. The anti-snag backer tape prevents any tearing while operating the zipper. This bag is designed for long-term use.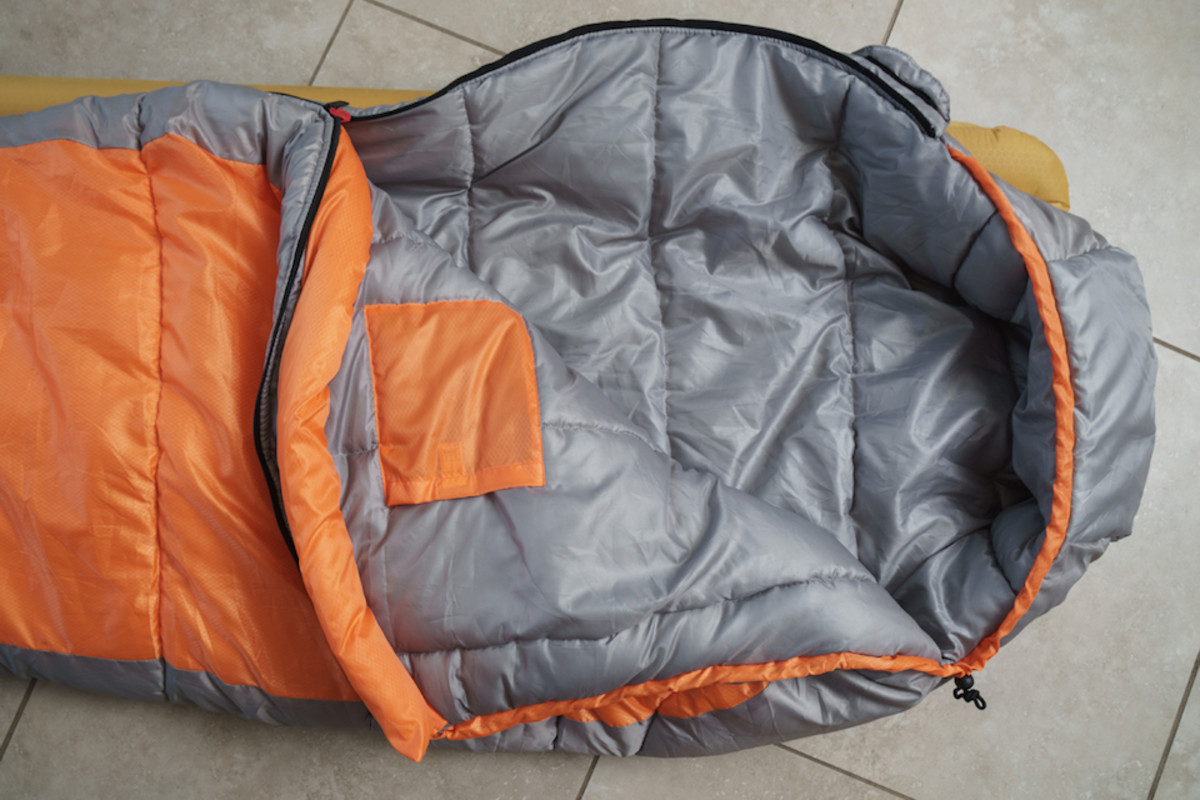 Value of Rei Lumen
Even though the bag is a bit hefty, its durability and overall performance more than compensate for the $159 price point.
Customer Review:
The REI lumen works great in place of a down bag in damp conditions. It provides great warmth and contains just the right features at the right price. The REI lumen provides the warmth and compactness of a down bag and defensive ability against the wet weather of a synthetic bag. Hence, it's highly recommended.
I have two versions available of this bag: regular and long. The above review belongs to the regular one. The two versions offer the same features and have the same features. Differ from each *Reviewer note: I have the "regular" and "long" versions of this bag. This review pertains to the "regular" version. However, the two versions only differ in terms of dimensions and weight. All other features and temp ratings are the same.
This bag is a great heat trapper, just like the HALO +25 down bag. The bag's insulations work so well that it feels as if the bag is generating heat and not just insulating it.
Pros
Provides great warmth
Just the right features
Not too expensive
Not as heavy as synthetic bags usually are
Generous cut allows relaxed shoulder movement
There are no zipper snags!!
EN-rated.
Nylon stuff sack and a cotton storage bag.
Cons
No more available
Lack of compactness folds into a hefty sack.
2) Big Agnes Fish Hawk 30 Complete Review
The Fish Hawk 30 sleeping bag has a semi-rectangular form, which is characteristic of Big Agnes' standard range of sleeping bags. The Fish Hawk 30's patented insulation system keeps the DownTekTM treated down uniformly distributed across the body, making it extremely snug.
Compressibility
The Fish Hawk 30 fit into the 8×6 nylon stuff sack which comes with it. It may be a compression sack. Compress further down to the size of a soccer ball. However, it is still the bulkiest amongst the five bags in this class.
Warmth
The Fish Hawk 30 uses Big Agnes' Sleeping Bag System, which means that its dependent on a separate sleeping pad rather than the bottom. A sleeping pad does not sufficiently insulate according to me. The Fish Hawk, therefore, did not perform up to the mark in the lower temperatures of its rating. The DownTekTM treated down facilitates faster drying, loft enhancement, and moisture repellency. All these factors contribute to improved heat efficiency. In temps reaching the mid-40s, the bag performed much better. In addition, since the bag is somewhat larger than others in its category, it is simpler to generate a draught in warmer climates.
Overall Comfort
The Fish Hawk 30 offers comfort more like a comforter than a traditional sleeping bag. Hence, It's cozy and snug to a great extent. However, the sleeping pad sleeve beneath the bag is quite narrow. This adversely affects the overall comfort of the bag.
The Fish Hawk offers great breathability and features a soft and down-proof polyester (to prevent the down from poking out). It feels very smooth.
Durability
During the testing, The Fish hawk 30 wasn't worn down. Hence, I can deduct that it won't do so in the near future. Big Agnes employs a down-proof, nylon rip-stop shell and a down-proof, polyester, stain-resistant inner, both of which are treated to repel water.
Features
The foot box is not sewn at the edges, which provides great comfort especially if you sleep on your side or back. The one-hand cinch cord is also very easy to use and it's a feature I find very good.
The Fish Hawk 30 features a strong draft tube all the way the zipper goes. It also has a really wide seam which reduces to a great extent the vulnerability of the zipper to snags. As I explained in my other reviews for Big Agnes bags, It also has a draft collar which reduces drafts greatly. However, it might be annoying to active sleepers who tend to move much while sleeping.
As part of Big Agnes' Classic Series, the Fish Hawk 30 is designed as part of a Sleeping Bag System. It has a sleeping pad sleeve integrated to slide your sleeping pad into. The benefit of a spacious bag is that it doesn't get too warm in milder climates. However, there is a drawback to this. The bag is wider than the Big Agnes Double Z Airpad. This means that the extra space of the bag is rendered useless. If I wanted to benefit from the extra space and stretch my arms or legs, they go off the sleeping pad which is not at all comfortable.
There are not a lot of manufacturers who offer a sleeping system. If you require a sleep system, Big Agnes is the go-to because it offers just that. In this category, two other manufacturers who offer that are Therm-a-Rest and Sea Summit.
You have the option to integrate YKK #8 zipper to another bag's zipper if you wish to sleep along with someone else.
Finally, the Big Agnes has the most reasonable price amongst other bags in this category.
Pros
Availability of zipper and size options
Sleeping pad sleeve included
Zipper is not vulnerable to snags
Comfortable and spacious
Most reasonable price in the category
Cons
Lack of compactness
weight to warmth not adequate
Wide girth best with a wide pad
Insulated pad required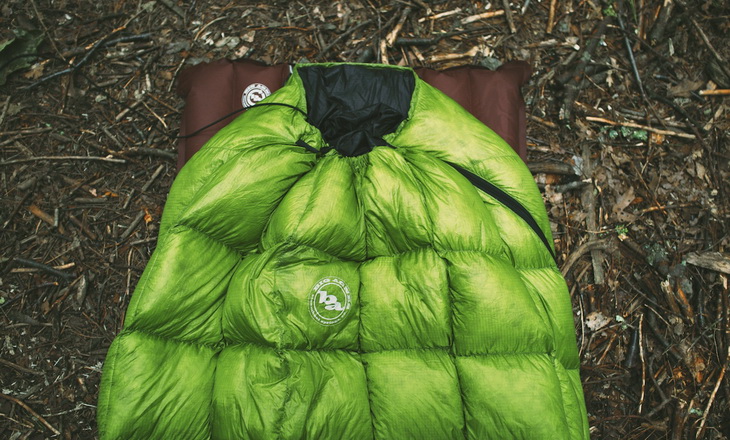 VERDICT
The Big Agnes Fish Hawk 30 is made to feel more like a comforter rather than a conventional sleeping bag. The Fish Hawk, although a bit heftier than other bags in this category, performs great in terms of overall comfort.
3) Nemo Astro Insulated Lite 20r Full Review
The fabric used in Nemo Astro Insulated Lite 20r is polyester, which it has offered great breathability and moisture-wicking. The pad and the elevated pillow are both firm and squashy. Side sleepers are often interrupted when a pad caves in around their bodies. The Nemo Astro eliminates this inconvenience by its lateral baffles.
Weight
Despite being the heaviest bag in the lightweight category at 19.3oz, The Astro still compresses down to a size similar to other pads tested.
Warmth
Nemo has specified a temperature rating (15 to 25F) instead of an R-value. The good thing is you don't feel the ground because of the height of the mat. The Astro uses Primaloft synthetic insulation.
Durability
The 20D Polyester ripstop demonstrates great durability on almost all surfaces, and the polyester also takes the comfort up a notch. Note: The D, standing for Denier, is a measure of insulation (against the weight of the material). Polyester has great fire-resistant capability.
Ease of Use
The Nemo Astro has an easy-to-use twisting valve for inflating. The pad filled quickly despite its good height. The stuff sack is a perfect size, and the pad fits well inside it.
The Nemo has provided the best sleep I've had with a pad. A full-length pad, weighing just under 1.2 lbs, which doesn't make noise is a great option. It remains insulated even near 20, below which any inflatable pad requires a supplement.
Pros
Comfort
Sturdy construction
Simple and easy valve
No noise
Packability
Great insulation
Firm lateral baffles
Packability
Elevated near the head to provide a pillow
Cons
Though I like the pillow, others may not
Heftier than others in the category
Hefty
No lateral support
Previously, I had used the Rei Lumen. The NEMO Astro was the fourth one I tried this year. After experimenting with each of them for several nights, I decided (pun intended) on the NEMO for various reasons.
The weight is moderate, but the noise level is almost non-existent, and the comfort is great. A good night's sleep on this 3-inch high surface compensates for the pad weighing a little extra. The Primaloft insulation explains it being around 6 ounces.
There are several amazing reviews on Trailspace if you don't know about this product. It justifies its price of $4. The Installation did not correctly fit the NEMO valve, but a $3 piece of 1/2 inch tubing from the local hardware shop solved that. A short component slips over the Instaflator's regular tube. It fits both it and the NEMO perfectly—a 1/8 ounce fix that I moved effortlessly on and off the Instaflator while filling both the NEMO and my wife's NeoAir Xlite.
Price Paid: $225.50
Verdict
The Nemo Astro Insulated 20R is the heftiest of all pads in the ultralight category. However, it's a very durable sleeping pad that provides great comfort and is suitable for side sleepers. With its firm surface, it provides an uninterrupted sleep.
Recent Blogs
Leave a message
Your email address will not be published. Required fields are marked*