Current Location
United States
10 Best Running Socks Of 2022
Last updated: Dec 1, 2023
Unless you constantly pound the street or gallop on the trail, socks are easy to overlook. Runners' feet cover dozens, if not hundreds, of kilometres every month, so it's important to protect them with the finest running socks available.
Socks have progressed from simple cotton sweat-soppers to highly technological, sport-specific items of equipment created by and for runners. We went everywhere and logged hundreds of kilometres on pavement and trails in search of the finest running socks we could find.
How we choose the best running socks?
We looked for socks with positive ratings, from reputable sports and performance gear manufacturers, and that were expressly developed for running. That meant that each pair had to possess two fundamental characteristics:
Sweatproof
Moisture-wicking fabrics are a must-have. Nobody likes to submerge their feet during race preparation. If the socks cannot keep you dry on a lengthy run, they fail our smell test.
Supportive.
Most running socks have some kind of support, whether it's a focused panel to provide additional arch support or compression throughout the body of the sock to assist keep your blood moving.
We also included a range of cuts (no-show, ankle, crew, and over-the-calf) with or without tabs, as well as several amounts of cushioning. We're sure everyone has a Cinderella sock – that one style that's a perfect fit.
It's worth noting that several of these products have varying cut and cushioning levels. So, if a crew sock on our list catches your eye but you're a strict no-show sock person.
Below is the following list of the best running socks:
No.1 Lasso Performance Compression Socks ($30)
It's exceptionally high quality construction, great compression, and good ratings, this sports sock from Lasso took our top rank. The sock offers compression throughout the foot and leg, as well as extra ankle support. It's also comprised of a light, moisture-wicking yarn combination that keeps your feet dry.
These socks aren't only for running; they can also be used for cross-training.
Reviewers like how comfortable, supportive, and breathable they are, as well as the compression they give.
Size range: youth 4–6, women's 5–11, men's 7–17
Color: several options available
Material: polyfiber yarn (polyamide, polyester, spandex)
Features: compression, ankle support
N0.2 Balega Hidden Comfort ($14)
Balega is well-known in the running community for good cause. When we know we'll be spending a lot of time on our feet, we go for Balega's Hidden Comfort socks ($14).
The cushioning is obvious as soon as you put them on, and they remain soft and pleasant throughout the day. They manage to be quite comfortable without being bulky.
To offer protective cushioning from the top of the shoe, the cushioning wraps around the toe cap to the top of the toe, while seamless toes minimise discomfort. Ventilation strips around the top wick away perspiration and keep the feet cool.
The polyester Drynamics fabric wicks moisture away from the skin and enables it to dissipate, preventing blisters and that awful soggy sock sensation.
Because to the rib-band design, the fit is tight and supportive without feeling restricting. That structure not only adds comfort, but it also helps the sock hold its form on extended runs - it really feels like a second skin, making it the finest running socks on our list.
Size range: youth 4–6, women's 6-15.5, men's 4.5-14
Color: several options available
Material: 200 needle-count fabric.
Features: Extra-deep heel pocket, hand-linked, seamless, reinforced toe
N0.3 Swiftwick Vision Six Impression ($20)
Swiftwick's elegant Vision Six Impression socks ($20) come in a close second. These socks will be your go-to if you sweat a lot or run in hot conditions.
Swiftwick's reputation as the finest moisture-wicking socks on the market is bolstered by these calf-high lookers, which have structurally engineered fibres that draw perspiration to the outside of the sock.
Seamless toes keep discomfort at away, and moderate compression offers the sock a pleasant, secure fit without feeling too tight. On lengthy runs, the medium cushioning delivers comfort without adding bulk.
The Impression edition of the Vison Six series is one of our favourites since it boasts wraparound designs inspired by National Parks. Socks featuring patterns inspired by Yosemite, the Grand Canyon, Zion, Yellowstone, and the Great Smoky Mountains are available. They're also collecting recommendations for additional parks to add, and more models will be available shortly.
Size: XS = 30-34, S = 35-38, M = 39-42, L = 43-45
Material: Nylon, polyester, spandex
Features: Great design, solid cushioning, moderate compression
Color: several options available
N0.4- Swiftwick Flite XT Five ($24)
According to our male and female testers, the Swiftwick Flite XT Five achieved the highest average score of all of our socks and is one of the finest running socks for both women and men. Our major takeaway from the Swiftwick Flite XT Five socks is that they hug our feet and ankles like crazy. The design incorporates moderate compression, making it feel snugger than other running socks in our list, such as the Drymax or Smartwool varieties. As a consequence, There is no bunching and just a minor pinch. These socks are not designed to provide medical-grade compression.
Runners with larger calves, on the other hand, may need a little break-in time with this muscular sock. "At first, they were a touch snug around my lower leg. "They stretched, retained form to my lower thigh, and I didn't feel restricted at all," remarked one competitive ultrarunner and product tester. The athlete wore these socks for 160 miles through Colorado and Utah, in temperatures ranging from 32 to 92 degrees Fahrenheit. "By far my favourite pair of socks." When I ran in Moab, it was more over 90 degrees Fahrenheit, yet my feet did not feel hot or moist."
The mesh top aids with heat dissipation. A medium-level cushion rests under the arch and heel, providing appropriate support over long distances and on bumpy descents. The fabric under the forefoot is made up of alternating rows of cushion that use a special gripping fibre called olefin to drain away moisture and perspiration. The sticky nanofiber is also blended into the heel cushion, which offered no-slip stability in the shoes of our testers. "These socks dried up pretty quickly and did not cause me any blisters," one tester said after ploughing through water, adding the four-inch high cuff "is excellent for running over grass and low bush." "These socks are incredibly comfy, really soft, and make my feet feel so safe," says the author.
Material: 66% nylon, 17% polyester, 14% olefin, 3% spandex
Size: XS = 30-34, S = 35-38, M = 39-42, L = 43-45
Features: Manages moisture super well and dries fast
Color: several options available
No.5 Smartwool Athlete Edition Run Crew Socks ($26)
The Smartwool Athlete Edition Run Crew Socks came in second place among our top-rated options, and one of our testers gave them a flawless score. Clearly, this pattern has been and continues to be one of the greatest socks for runners. This design is lightweight and cushioned, yet it is far from fragile. We discovered that this streamlined sock offered great and strategic protection on mud-ridden, high-altitude routes as well as parched desert floors. The sock contains a thin, densely woven cushion under the ball of the foot, heel, around the toe, behind the achilles, and against the outside ankle – in all the right places.
The top of the foot and cuff are made of a mesh weave for breathability, which distributes heat somewhat well — but not as efficiently as the Drymax Extra Protection Hawks Hot Weather 1/4 Crew socks in this guide. Having said that, even with the sweatiest testers, this Smartwool design transported moisture efficiently and did not get drenched from perspiration. The heel is approximately four inches higher than the ankle, and the toe box is seamless with no bunching fabric.
Because of the odor-absorbing Merino wool, one of our testers took this pair on numerous long-distance runs in a succession and never detected a stink. The business also makes a women's version with a smaller heel and thinner fit. Both variations were tested and approved by our female and male runners. Finally, the Smartwool Athlete Edition Run Crew Socks are well-tailored running socks that are suitable for short or long trail runs, mild climates, and multi-day journeys. "The seams on the inside of this sock are clean, with no free-flying threads, and the sock has the correct amount of flexibility," says the author. "My foot feels cradled and cosy," one of our testers said.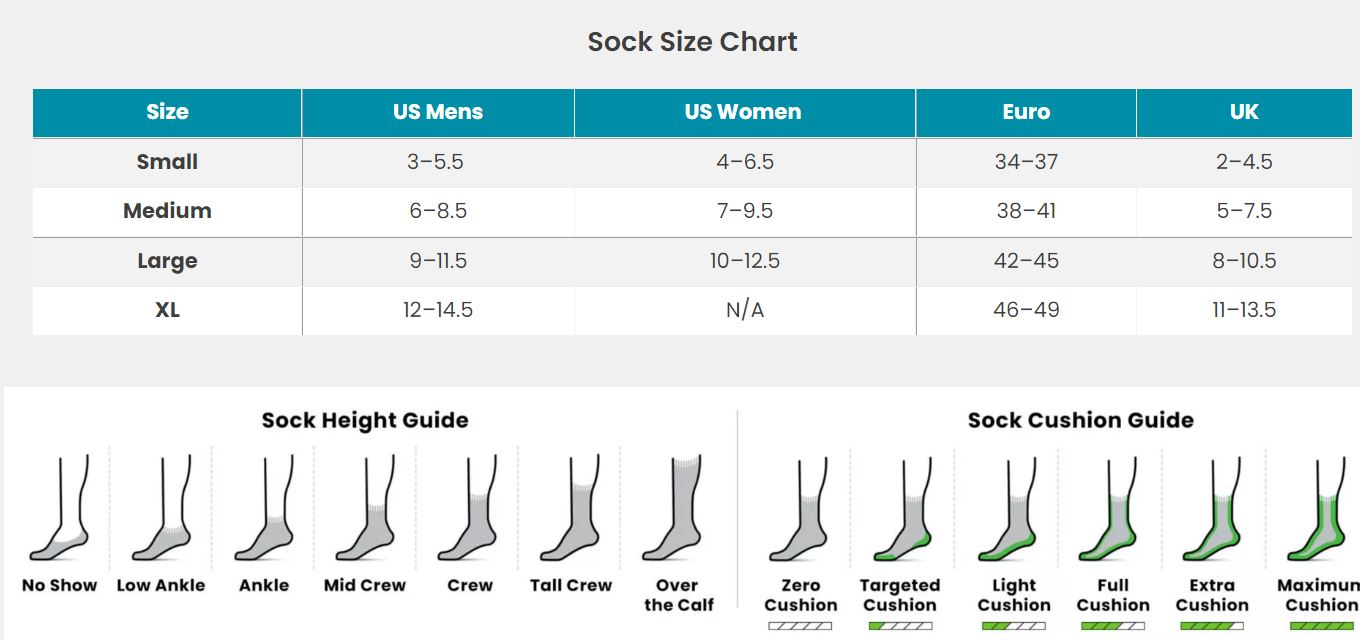 source: Smartwool
Material: 57% Merino wool, 38% nylon, 4% elastane, 1% polyester
Features: Attractive, stylish design
Color: multi color
No.6 Injinji Trail Midweight Mini-Crew ($16)
If you like spreading your toes while running, the Injinji Trail Midweight Mini-Crew will not disappoint. The soft underfoot padding cradles and protects your foot in all the right places, while the thicker quarter-length construction prevents slippage and movement as you explore. This sock is distinct from others in that it wraps each toe separately, almost like a glove. It lets your toes to expand, which helps to prevent blisters and enhances your balance when hiking. Everyone from a 5K runner to an ultramarathoner will enjoy its distinctive design, comfort, and protection on lengthy treks.
While toe socks are popular among some, they are not for everyone. The additional effort required to put them on, as well as the toe splay, is unusual. However, if you haven't tried a toe sock before, why not? We did, and we were really pleased with the results.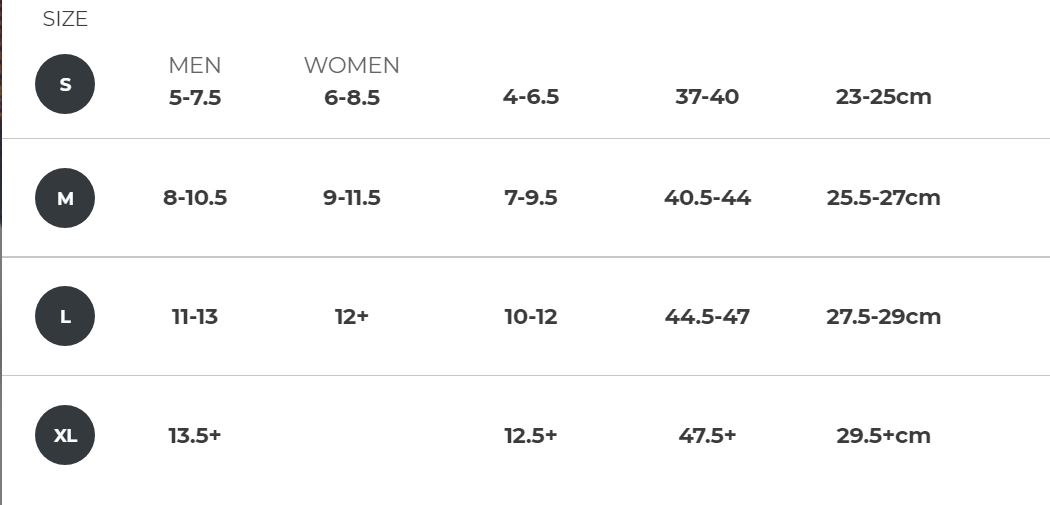 source : injinji
Material: 39% COOLMAX polyester, 58% Nylon, 3% Lycra | Cushioning: Midweight
Features: Plush cushioning and Toe-sock design for enhanced toe spread
Color: multi color
No.7 Swiftwick Aspire Zero ($15)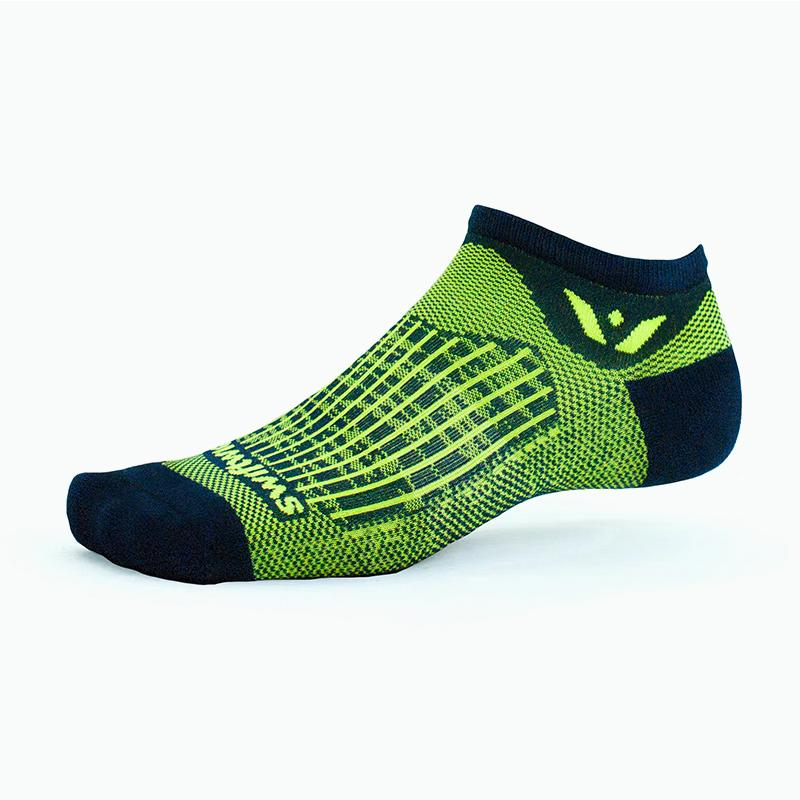 The hydrophobic olefin fibres, along with the Nylon components, make the Swiftwick Aspire Zero a superb solution for sweat-wicking and breathability. The design allows for plenty of air, which swiftly conducts sweat away from the foot, through the sock, and out. We are amazed by its precise fit and absence of movement despite running long and strenuous days. It dried swiftly even when wet and kept our feet pretty dry. As a consequence, we suggest it for use in warm weather on terrain that does not need a lot of support or cushioning.
While it's difficult to find anything actually wrong with this sock, we'd have to say the most important flaw is just in its design. It's meant as a lightweight sock alternative, which may not be ideal for individuals who need a bit more cushioning. Also, although the material isn't very slick, we discovered that since it's so thin, it slides about in broader, sloppier shoes. To prevent this problem, a tighter-fitting shoe is required. If you're looking for a sock that breathes well in warm weather, this is our top pick.
Material: 55% Nylon, 40% Olefin, 5% Spandex | Cushioning: Ultralightweight
Features: The thin shape is intended to fit into any technical shoe as though it were scarcely there.
Color: multi color
No.8 WRIGHTSOCK CoolMesh II Quarter Socks ($14)
The dual-layer construction of WRIGHTSOCK's CoolMesh II quarter-length socks ($14) is its most distinguishing feature. The inside layer is constructed of smooth, hydrophobic Dri-WRIGHT II polyester for a comfortable sensation against the skin and to aid in the removal of moisture from the foot.
The outer layer has a mesh weave that allows moisture to accumulate from the exterior of the inner layer and evaporate. This not only keeps feet cool and dry, but it also reduces friction between the shoe and the foot. This inhibits the shear action that creates blisters in the skin.
Material: (Inner layer) 70% polyester/27% nylon/3% Lycra spandex
Features: The top mesh panel vents heat and sweat, while the mild cushioning absorbs impact during runs
Color: multi color
Size : S:4-6,M:6.5-9,L:9.5-11
No.9 Bombas Performance Ankle Sock
Price: $17.84 - $44.89
When you put on the Bombas Performance Ankle Sock ($16), the first thing you'll notice is that they're the most comfortable socks you've ever worn. These running and training socks are constructed of a cotton-polyester mix and provide substantial cushioning in the forefoot and heel.
During exercises, temperature-regulating vents enable cool air to flow in, keeping your feet cool, while moisture-wicking fabrics keep your feet dry.
The socks are tailored to suit the left and right foot, offering a comfortable fit that doesn't bunch or wrinkle while also reducing blisters and hot areas. Furthermore, the seamless toe and y-stitched heel aid to reduce discomfort.
Material: 51% Polyester, 33% Nylon, 12% Cotton, 4% Spandex
Features: Strategic Zone Cushioning
Color: multi color
Size : M: 6-9, L: 9.5-13, XL: 13.5-16
No.10 Thirty48 Elite Compression Socks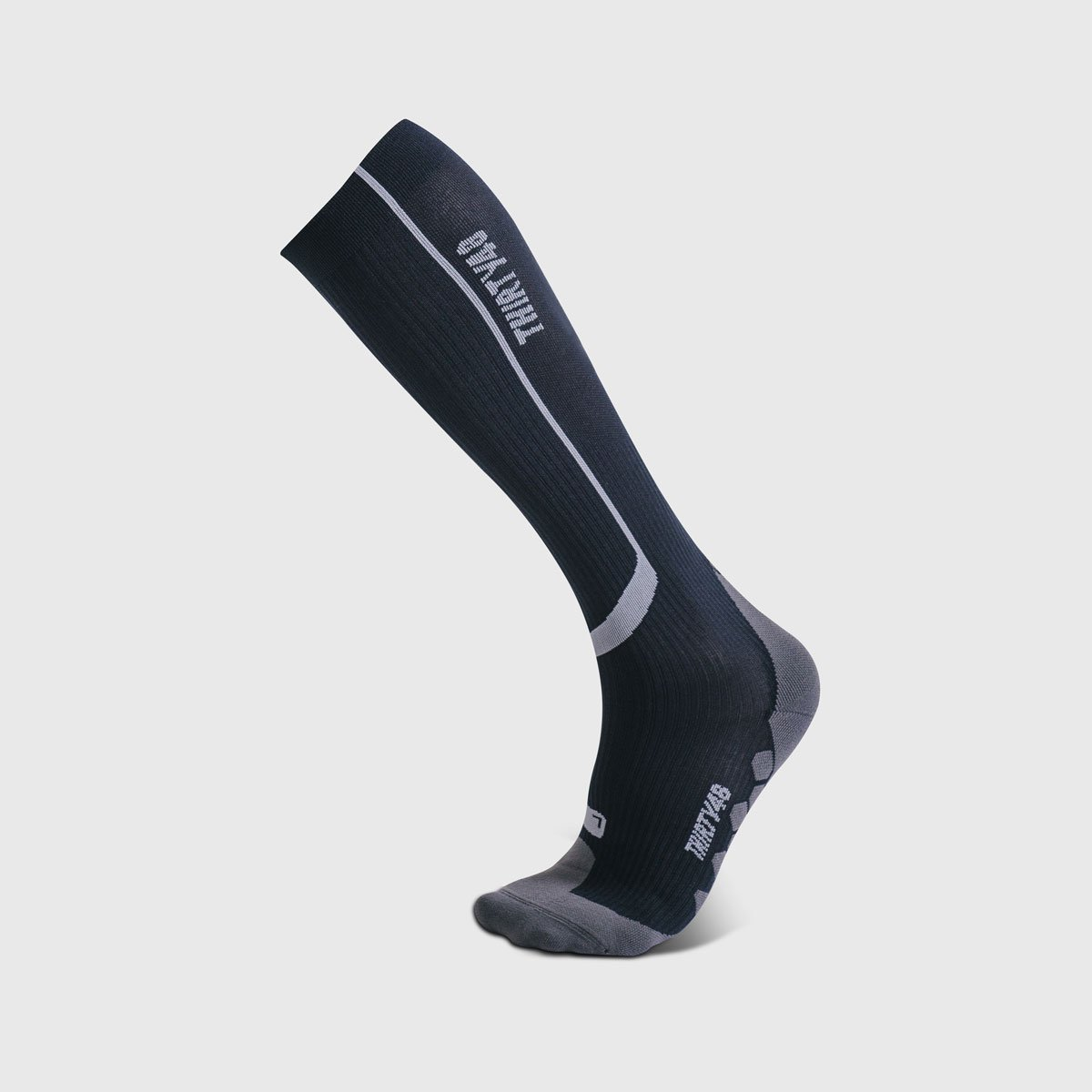 Price: $24.98
Thirty48 Elite Compression Socks ($13-27) are designed individually for left or right foot and strive for a perfect fit to reduce discomfort and blisters. These knee-high compression socks deliver progressive compression from the calves to the arch of the foot, allowing blood flow to be improved throughout your run. If you wear them after a run, the enhanced circulation provided by the compression helps you recover quicker and reduces discomfort.
The socks come in two-packs, allowing you to roll off the pair you just used for a run and put on a fresh pair to recuperate. The wicking material and topside vents aid in moisture regulation, while the cushioned heel cushions stress during runs.
Material: 57% Nylon, 25% Lycra Spandex, and 18% Antibacterial Nylon.
Features: Extra padding on the metatarsal which provides abrasion protection.
Color: multi color
Size : S: 6-7 , M: 7.5-9 , L: 9.5-11, XL: 12-14
Recent Blogs
Leave a message
Your email address will not be published. Required fields are marked*