Current Location
United States
Best slingshot for hunting rabbits
Last updated: Nov 28, 2023
Slingshots have been the handiest and easy-to-use hunting weapon since the dawn of humankind. For centuries humans have relied on this handy tool to bring food to their tables because they were lightweight, easy to make, and quiet. While slingshots are still all these in today's world but now they are more than a Y-shaped wooden piece with rubber bands. In the contemporary world, advanced slingshots are being manufactured with technical features to ensure an easy and killer shot. Whether you are a hunting aficionado or a beginner searching for the best slingshots can be a sturdy task, but Super Saver Mama has made it easier for you. Read on the purchase guide to get an idea of what makes the slingshot best for hunting rabbits, and scroll down to see our pick of the top five best quality slingshots for you.
Purchase Criteria for Slingshots
What are the basic factors or criteria you can use to compare and evaluate slingshots to choose the best one for you? We have listed down some of the main features to look out for in a slingshot:
Material of the frame
Weight and dimensions
Handle
Rubber
Ammunition
Price
Frame material
Slingshots are made of the three most common materials which are metal, plastic, and wood. It depends on your preference or usage. Each material has different properties, such as performance, durability, and stability.
1) Metal
A metal slingshot is not only strong but also light. A metal frame ensures powerful shooting, thanks to its rigidity which makes a reliable frame. Another plus point that metal offers is durability. As metal is a strong material, metal slingshots are sturdy and long-lasting. Aluminum slingshots are comparatively lighter than those made of steel.
2) Plastic
The plastic slingshots are also a decent option. Not only are they robust and durable they are also cheap. Platic slingshots are usually lighter and smaller than metal slingshots which is a good thing when traveling. Lightweight means you can carry them anywhere easily. The usual slingshot weighs between 100 and 300 grams. An important thing you must know is that bigger does not mean stronger. Regardless of size, slingshot's durability and sturdiness depend upon the material used and its frame. With the compact size of 20 cm, you can easily carry any slingshot in your pocket.
3) Wood
Wooden slingshots offer the same durability and performance as other materials. The only downside to wooden slingshots is that they are comparatively expensive. You can buy wooden slingshots online or at specialty stores. If you buy from Walmart you can save 20% using Walmart promo code
Handle
One of the most important factors to consider while purchasing a slingshot is its handle. The quality slingshot should be able to provide a strong and firm grip. If the handle of a slingshot is too narrow or too wide, it will be difficult to get a firm grip on the slingshot. Good slingshots have an ergonomically shaped grip that provides both comfort and control. Good multi-purpose handles are the ones with cavity grips that have additional ammo storage to keep your ammo, or spare rubbers close at hand.
An important thing you must take note of is that most slingshots are made for right-handed people. If you are left-handed, make sure that the handle can be used left-handed or with both hands.
Rubber
After the strong grip handle, what matters is the rubber used in a slingshot. There are two main types of rubber. One is the rubber tube, and the other is the flat rubber band. Both have their pros and cons. In comparison, flat rubbers offer more speed and are easier to pull. Rubber tubes, on the other hand, are more durable and last longer. If you're looking for speed and precision, the flat rubber is definitely for you and if you want a slingshot to be your long-term hunting gear, then opt for round rubber tubes.
Moreover, it also depends upon your personal experience. We suggest you try both and feel it in your hands. This will give you an idea of which one feels more comfortable to you and suits you better.
Round rubber hoses
Rubber hoses and round rubbers come in all kinds. The difference in thicknesses influences their strength and durability. European and American hoses last longer but cost more, whereas, Chinese hoses are less durable but are cheap. Flat rubbers are also available in different thicknesses. The biggest advantage of a round rubber is that the hose is much more durable and firm than a flat rubber
Slingshot's Strap
The quality of the strap is also an important feature that decides the quality of a slingshot. The most commonly used straps are latex made and are just under 0.8mm thick. The thinner the latex, the faster your bullet shoots. However, the disadvantage of the thin latex straps is their limited durability as straps are thin; they can easily break if a strong force is applied.
Ammunition
The choice of ammunition for slingshots is versatile. It does not really matter what you use as ammunition. To hunt rabbits, you can use almost anything as ammo. Small stones or stones from the riverbed, which are evenly round, can be found everywhere. You have to be careful though, because stones are less predictable than manufactured ammunition such as steel or lead bullets. The most common ammunition sizes range from 0.4 to 0.5 caliber, which corresponds to 10 and 12.7 mm.
Price
Of course, if you have lots of bucks in your bank account, you can definitely spend a lot of money to buy the most advanced slingshots available in the market. However, it is not necessarily the wise option; you can get a quality slingshot at a far lesser price if you know what to look for (what we highlighted above).
Isn't it good news for those on a restricted budget? Definitely! There are excellent options available at reasonable prices on Walmart and Orvis. If you're too busy or too lazy to put in the time and effort to discover the best slingshots for rabbit hunting we have got you! In this article, you will find our top five slingshots pick for you. So, save yourself the effort of hunting for the best slingshots and read to find the best match for you.
Professional Slingshot Set by Nispotdor
Nispotdor's professional slingshot is our top pick for many reasons. What we love the most about this product is its magnetic leather strap. It holds the ammo more firmly, and aiming at your game is a lot easier with it. Hence, with this magnetic strap, not only professionals but beginners can take a good shot as well. If you have just started with slingshot hunting, we highly recommend this Nispotdor slingshot.
Another great feature of this awesome product is its adjustable wrist brace support design which you can adjust to make the base of the handle more stable for you. Furthermore, its ergonomic grip handle is very comfortable to hold and easy to use. Apart from this, its high tension rubber bands give you a more accurate and precise aim.
Please forgive us for keeping the best part for the last. Nispotdor slingshot comes with a 4-in-1 package. If you buy this slingshot, you get fifty pieces of hard clay balls, rubber bands replacement, fifty pieces of steel ammo, and three screw keys. Whether you hunt as a profession or hobby Nispotdor's slingshot is one the best hunting slingshot out there.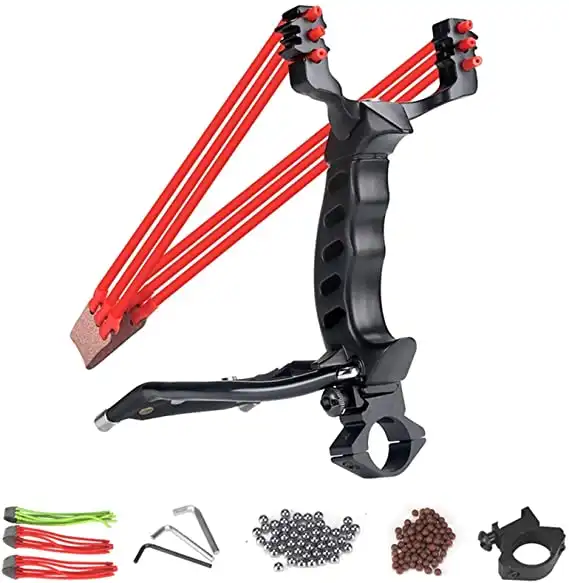 Get Nispotdor's professional slingshot now
Stainless Slingshot by Rochan
If you are looking for extra features then Rochan's stainless slingshot is for you. This premium quality product is for professionals. It has a lightweight steel frame with an adjustable wooden handle which is very comfortable to hold and gives a good grip. It comes with a double spring design which has high tension rubber bands to increase accuracy and shooting strength
Rochan slingshot has another fancy feature; it has a laser flashlight and infrared sight to help aim at your target accurately. In addition to this, it also has a flashlight holder in the wrist support frame. You can put the flashlight (sadly flashlight does not come with the product) in it and enjoy late hours shooting too. That's great, no?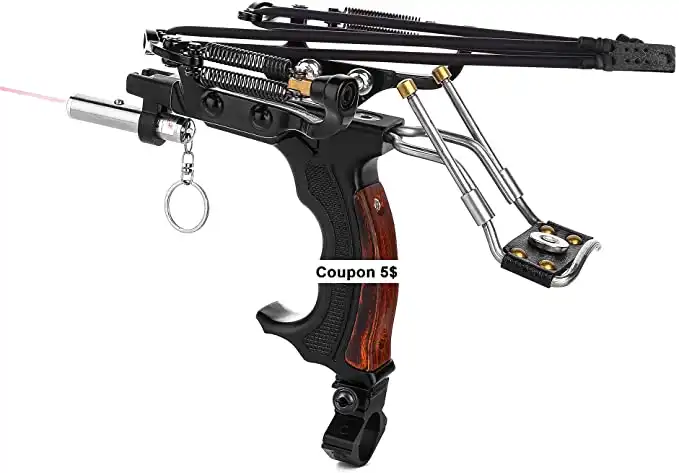 Get-Rochan's-stainless-slingshot-now
Strong Folding Slingshot by Nobondo
Folding slingshot by Nobondo has thousands of positive reviews on Amazon, and we are not surprised. Definitely, this is a powerful hunting product. Its compact metal frame has triple strength high tension rubber bands which boost up the hunting strength and give you a quick and accurate hit. Other great features of this product include its magnetic leather strap for an easy and stable bullets grip, adjustable magnetic wrist brace for holding metal bullets, and flashlight holder. With these advanced inbuilt features, getting an accurate hit is not really difficult.
Nobondo's slingshot comes with extras! If you buy this slingshot, you get one flashlight, one hundred metal ammo balls, and two powerful rubber bands replacement.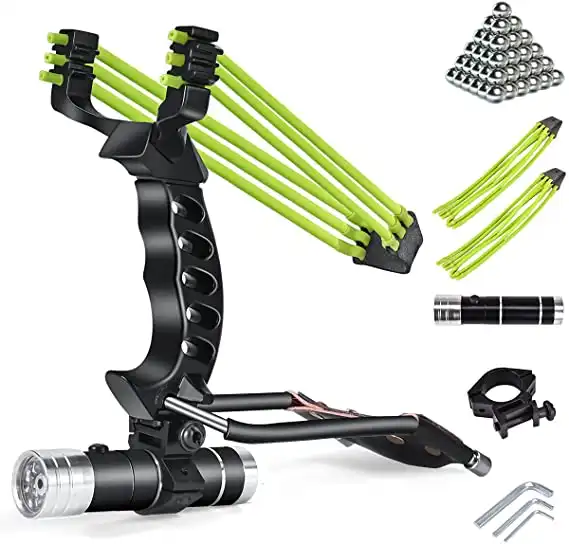 Get Nobodo's strong folding slingshot now
Slingshot with Heavy Duty Launching Bands by Gihunk
Our next pick is this all-in-one slingshot by Gihunk. When it comes to hunting gears, Gihunk is a well-known brand. Their products are of premium quality, and this slingshot is no exception. Thanks to its heavy-duty triple launching bands, you can get the energy to take aim easily. Apart from this, its compact metal frame is foldable; you can easily fold and carry it anywhere in your hunting backpack.
What we love about this product is its built-in left and right sight compass which greatly improves the shot's accuracy. All in all, this is a great product for hunting small games like rabbits.
Another awesome thing is that this product comes with a plethora of accessories. The package includes; one flashlight bracket with a flashlight, four replacement Slingshot Rubber Bands, fifty mud, and fifty ammo balls.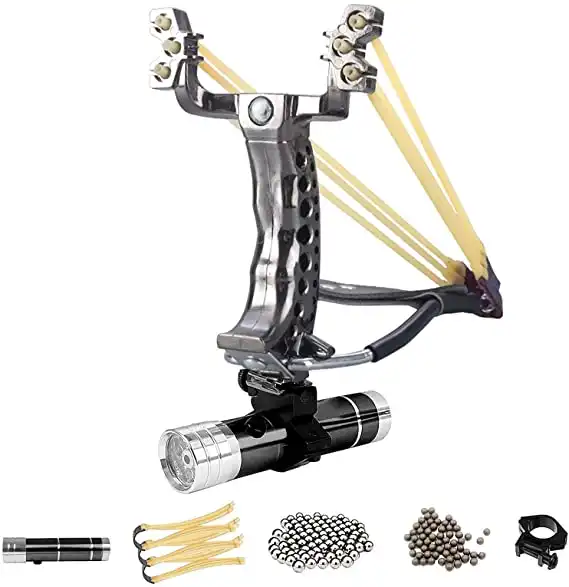 Get Gihunk slingshot with Heavy Duty Launching Bands now
Professional Slingshot by Lodonc
Are you planning on going rabbit or rodent hunting this weekend and an easy-to-carry slingshot? The London hunting slingshot is a good option for you. It has a sturdy metal frame with a wooden handle which gives excellent grip and provides great stability, allowing you to aim more easily. Apart from that, it has flat rubber bands that provide great tensile strength enabling you to take precise and accurate shots.
The major excitement buster for beginners is the complex slingshot assembling procedure. But this Lodonc hunting slingshot is easy to assemble (set a timer, we bet it wouldn't take any more than a min or two).
It is best for beginners as it can be upgraded with four high-precision steel mechanical sights. These sliding sights can be adjusted to adapt to different distances. The triple aiming points with color fiber can help beginners to correct their aim rather easily.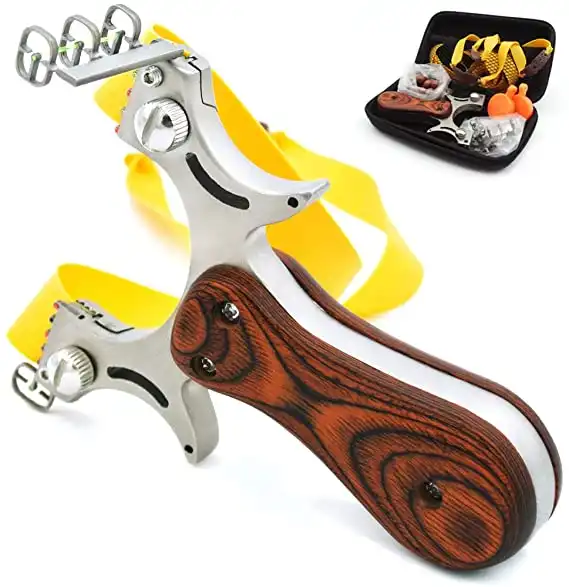 Recent Blogs
Leave a message
Your email address will not be published. Required fields are marked*