Current Location
United States
Best Women's Hunting Clothes
Last updated: Jun 6, 2023
Much has changed from how our ancestors used to hunt. Back in the old days, there weren't any specialized hunting gears, let alone hunting clothes. Still, humanity survived through hunting for thousands of years. So, why is there a need for special equipment and hunting clothes now? Well, the answer to that lies in evolution and adaptation. Back in your grandpa's times, animals weren't so smart. As decades passed and hunters began using more sophisticated weapons and gears, animals adapted. This adaption made them smarter; they changed the way they behaved. To outsmart the game, the hunters cannot rely on their skills only. They need gear and proper hunting clothes.
The thrill of the hunt is in fooling the game and getting close to it. The closer you get, the better the aim, the cleaner the shot. Getting close to the game is all about how much you can camouflage. Hunting-specific clothing has a camo pattern that conceals your body outline and helps you blend into your surrounding terrain and vegetation.
The kind of camo pattern and color of clothes you will need for the hunt depends upon the terrain and vegetation of the hunting ground. Your camo suit for the Desert hunt will be different from the forest hunt one. Other than that, season and weather also determine what clothes and how many layers you will need to wear.
After these key considerations, other factors that constitute good hunting clothes are their weight, comfort level, durability, shock and moisture resistance, UV protection they provide, odor control, hunt specific features like breathable vents, number, and places of pockets, zippers, etc. Keeping all these factors in mind can be backbreaking when you are shopping for your next hunt. So, we made an effort and saved you from the trouble of searching for the best women's hunting clothes. We chose the finest brands for hunting apparel and picked their best available options for you.
Women's Summit Park Performance Hoodie by Habit
Habit hunting clothes are known for their unique mix of micro vs. macro camo patterns. We love Habit's hoodies, jackets, and vests for their layering system, which regulates your body temperature and keeps you warm.
Habit's hunting clothes are waterproof and wind-resistant. This allows you to move smoothly and quietly in all kinds of terrain. In addition, they also have pest-repellent coatings on their jackets and pants to protect you against creepy crawlies.
Habit covers all hunting clothing categories, your options for finding the right hunting gear are virtually endless here. Habit is a perfect hunting clothing brand on our list of the best brands for hunting clothes. We specifically adore women's Summit Park Performance Hoodie for the space its side zipper pockets provide to stash the hunting gears.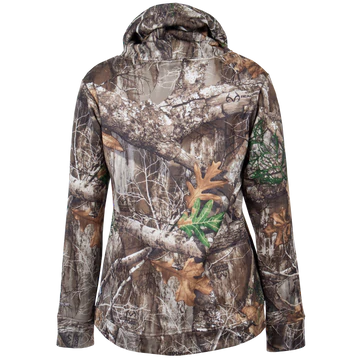 Price: $29.99 - $49.99
Women's Hera Down Jacket by Kryptek
Kryptek is the output of the two soldiers' efforts to find the best camouflage to date. They combined the military tactical clothing characteristics with the hunting specific needs and made the best camo patterns available in the market.
It's worth noting that Kryptek has a number of different hunting apparel ranges. For every season Kryptek offers a wide range of fabric collections, colors, and patterns. They have durable jackets, vests, pants, bibs, and hoodies made from a variety of fabrics and camouflage patterns to give you complete invisibility, weather protection, and temperature regulation.
Women's Hera Down Jacket by Kryptek is our favorite. Its water-resistance technology makes it bests to wear in rainy as well as stormy weather. The layering system inside the jacket keeps you warm even when it's freezing outside. Moreover, it features elastic cuffs and waistband and has a detachable hood too (meeting all your hunting jacket requirements).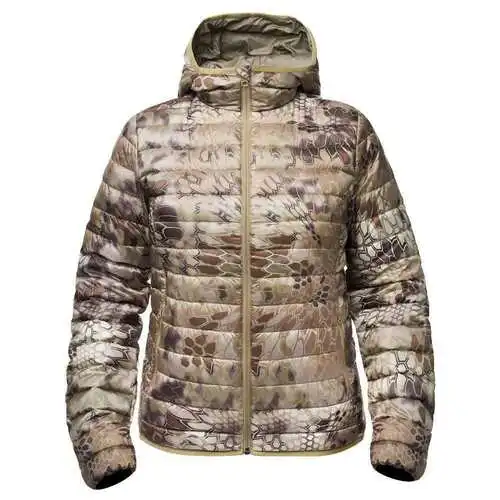 Price: $162.00 - $213.65
Jacquard Knit Beanie by Mossy Oak
For some people, hunting is more than just a pastime. It arises from a place of passion and becomes an integral part of who they are. Mossy Oak was founded on this passion by a group of dedicated outdoor enthusiasts. Mossy Oak understands the importance of the right hunting clothes for successful hunting. They develop high-quality hunting apparel, which includes hoodies in various patterns, jackets with synthetic loft insulation, windproof technology, water resistance, lightweight and sturdy pants with knee pads for extra comfort, and a lot more.
Mossy Oak's Jacquard Knit Beanie has the highest ratings. It is made of stretchable acrylic fabric which retains the heat and keeps your head warm in cold weather.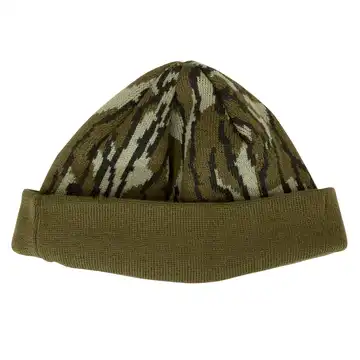 Price: $11.88 - $16.88
Women's Timberline Pant by Sitka
Sitka offers durable hunting clothes with waterproof and windproof technology. Hunters love their clothing line simply because of their outstanding quality. Sitka's Women's Timberline pants are our favorite. These pants are popular among hunters for their extra comfortable waterproof butt and knees pads which can be removed as well. They are made of polyester stretch material allowing you to move freely. Sitka pants feature multiple pockets for you to store the hunting gears for quick access. Overall it is a must-buy Sitka product.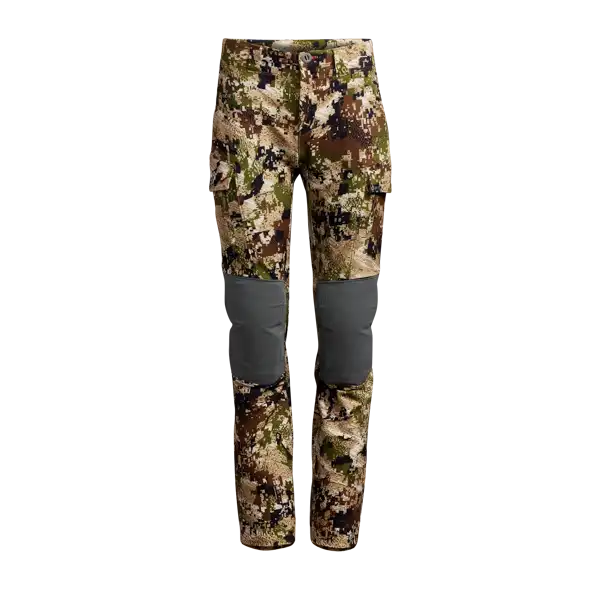 Price: $249.00 - $352.82
Kylie 4.0 Drop Seat Bib by DSG Outwear
DSQ ensures comfort and hunting success. Their clothing line is based upon three pillars; performance, pattern, and affordability. They offer a wide range of sizes, from XXS to 5XL you will find a great fit for every body type. Among female hunters, their Kylie 4.0 Drop Seat Bib is particularly popular. This bib is two in one, you can remove the top bib portion by simply unzipping it and changing it into pants as per your need. It also provides great storage space with two large side pockets and thigh cargo. Another great feature of Kylie drop seat bib is its Thinsulate insulation. All in all, it's a highly recommended DSG Outwear product.
Price: $199.99 - $209.99
You can find all these awesome brands on Walmart.      
Recent Blogs
Leave a message
Your email address will not be published. Required fields are marked*